Getting an error code on the screen is very irritating. Although Roblox provides many games for free and paid that entertain the users, it also throws errors that irritate the users. There can be many errors that can be seen by the users, but here, we are discussing Roblox Error Code 273.
These days, parents are quite worried and looking for games that can boost the knowledge of their kids. That's why we have gathered a list of some very interesting free math games that they can provide to their children.
Let's back to the topic that is:
What is error code 273 on Roblox?
Roblox Error Code 273 indicates that you are logged in to another device with the same login credentials, and if you want to play on this device, you have to log out from that device and then reconnect.  
Sometimes, Users may face this error code during the gameplay, but they do not need to worry. Roblox Error Code 264 and this, both indicate the same issue.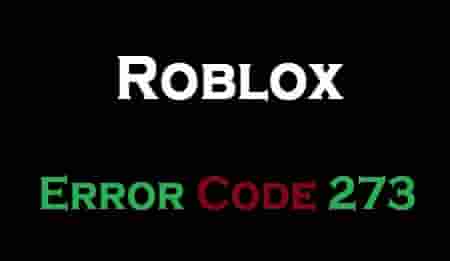 How to Fix Roblox Error Code 273?
Users getting scared that their account has been hacked by someone. But, you do not need to worry because there are a lot of games that save your credentials and if you go to play another one then you face the error code.
So first of all, to fix  Roblox Error Code 273, you should check if you have played any odd game recently or not. And if you find the game then check if you are still login to that game or not, if found the log-in, then log out from that game and try again to play another one. 
Next, you can also check if any other person is using your login credentials to play games on the Roblox. Ask him/her to log out from her/his device so that you can play. 
You should also check if really, any other device is logged in using the same credentials, then log out from that device and try to log in to your desired device.
Related Errors:

Fix Roblox Error Code 914

How to Fix Roblox Error Code 275

Roblox Error Code 277