You just wanted to play your favorite game on Roblox but, is it throwing Roblox Error Code 256 or 274? Don't worry, after doing some research, we have found that this error code can be fixed by doing some easy workarounds. As you can see in the title of this guide, we have mentioned that what this error code means, so firstly, we will talk about this then, we will discuss its fixes.
What Roblox Error Code 256 or 274 mean?
Error Code 256 or 274 on Roblox means that the developers have temporarily closed the game server due to some maintenance or updation work. Also, you can get these error codes if your account has been banned due to some suspicious activities.
If somehow, you have been banned by the Roblox game then, here is a guide to help you out to get unbanned.
How to Get Unbanned From Roblox
If you have found that you are not banned, then you can return to this guide and learn how you will fix these error codes.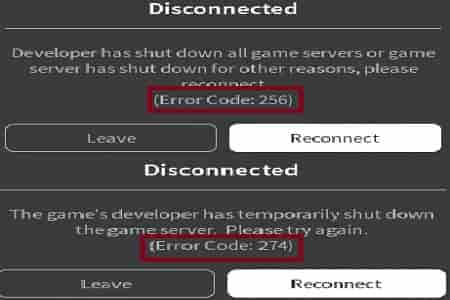 How to Fix Roblox Error Code 256 or 274
If you are getting any of these error codes then, most probably the reason behind this will be temporary maintenance work that is under process. So, in the meantime, you can choose another game to play. If the maintenance work is in progress then, you can only wait until it is completed. 
After some time you can make a try to play that game again. If the server status is up, you may able to play that game.
Sometimes, Developers may manually close a game server, usually when the updation work is in progress. Any game launches its update to provide a better user experience or sometimes developers add some extra features in the game to provide more options to the users. In this situation, they may close the server temporarily.
Note: You should also check if the server of Roblox is down or not. Sometimes, this can happen that you may face any of the discussed error code is appears due to server down.
Check Roblox Server Status.
If you have been banned from the game, then you should follow our guide that will help you to get unbanned. But, we will say one thing that, never violates the terms and conditions of your favorite game because this can be sufficient to ban you from that game.
Related Errors:

How to Fix the Roblox Error Code 523

Roblox Error Code 279

Roblox error code 901

Fix Roblox Error Code 914