Roblox Error Code 771 may appear when users try to teleport in a game that allows doing this. There are many games on Roblox that allow users to teleport but, sometimes users may face problems doing so. Anyway, here, we are present to resolve your issue related to this error code.
What is Roblox Error Code 771?
Roblox Error Code 771 means that you are trying to teleport to a game server that is no longer available or has been closed. Also, users may face this error code if they have been offline for a while because, at this time, the service fails to recognize the command.
This error code may appear when users try to teleport in a game that allows doing this. 
Tips: Always try to teleport to a place that is not restricted or not under review otherwise you may face another teleport error that is- Roblox Error Code 773.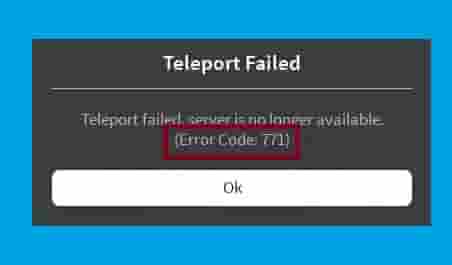 How to Fix Roblox Error Code 771
Many users fount the solutions mentioned in this guide helpful to them, so you can also follow these solutions to fix this error code. Here are some steps are given to fix this error code, you just have to follow these:
Clear the DNS cache and reset the Winsock catalog
Open Run Dialog Box and type cmd in the search box and press Enter button.
Command Prompt as an administrator will open.
Now, type- netsh winsock reset and hit the enter button.
In the next line, type- ipconfig /flushdns and press enter.
Now, move to the next step.
Change the DNS Records
Changing the DNS record is the second step you have to do to fix this error code.
Type Network and Sharing center in the search and hit Enter.
Now, click on the change adapter setting link from the left side of the window.
Next, select the network that you are using currently and do a right-click on it.
Go to the properties and navigate for Internet Protocol version 4 and click on it then click on properties.
Enter 1.1.1.1 in the preferred DNS box, and 1.0.0.1 in the alternate DNS box and press the OK button, and then close it.
Next, restart your computer to save all the changes and try to play the game and teleport. The Roblox Error Code 771 should vanish now.
If still, you are getting the issue then you should talk to the Roblox Developers or Roblox Support.