If you want to consume a wide variety of content like TV shows and movies, turn to HBO Max – a popular streaming service. But also be prepared for errors and bugs present in the platform – you may encounter them at any time. Error code 1k-0028 is one of those errors. 
Many users have reported this error and are eagerly looking for a solution. This guide will explain why this error code appears and how you will fix it! 
So without any further delay, let's jump right in and fix this error to get you back to enjoying your favorite show/movie.
What is HBO Max error code 1k-0028, and why does it appear?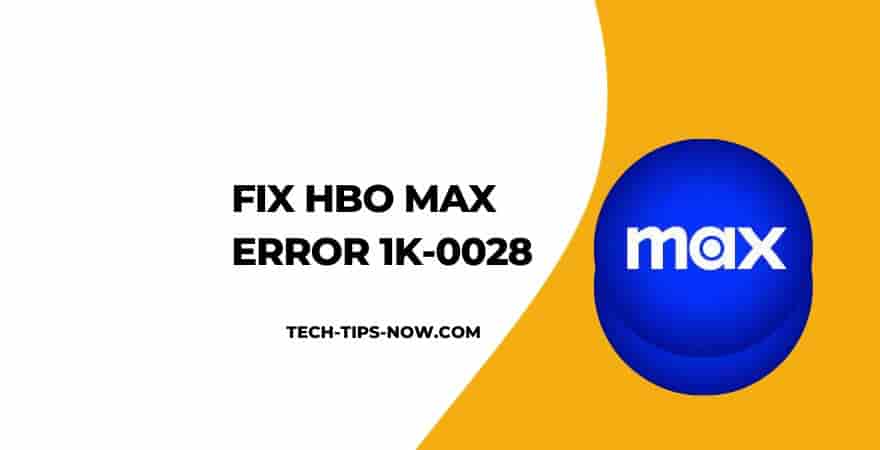 This error code may appear when you try to stream any content or in the middle of streaming. The error is a common error that can appear due to several factors, including –
Server-related issues, unstable/poor internet, a problem with the device or app you're using to watch HBO Max or a problem with the video file you're trying to watch.
How to Troubleshoot HBO Max Error Code 1k-0028?
Verify HBO Server Health
If you are in the middle of streaming or have just launched a show/video to stream, but the error is preventing you from doing so, it could be due to server issues that the HBO Max server is experiencing right now.
Sometimes, due to the launch of a popular show or movie, a group of users try to access the platform at the same time, resulting in an extra/heavy load on the servers.
Due to this load, the server may take longer than usual to respond and therefore trigger the error code.
But, don't worry, the server problem gets fixed after some time. You should wait for it and then try again.
Visit https://downdetector.com/status/hbo-max/ to see if the HBO Max server is down in your region. 
Verify Your Internet Connectivity
The second troubleshooting step is to verify that your internet is stable and connected to your device when you are trying to access HBO Max.
Unstable/slow internet can be one of the most likely reasons for getting a streaming error like 1K-0028. You can disconnect and reconnect your device. Also, rebooting and power cycling your router should also be taken as an important step to get your connectivity back and stable.
Don't Use VPN
You should avoid using any VPN because if HBO Max detects it, you will not be able to access its content and it may give you an error like 1k-0028.
So, if you are using a VPN, disable it and see if the error still appears.
Consider Updating your Device's Software and the HBO Max App
To prevent errors due to compatibility issues between your device and the HBO Max app, it is very important to update your device's software and the HBO Max app.
If you are getting the error 1K-0028 on your mobile (iPhone/Android), try updating the app by visiting the App/Play Store. 
If it doesn't make any difference, check if your device's software needs to be updated.
Uninstall and Reinstall the HBO Max App
The files containing the installed HBO Max app may become corrupted. Freshly installing the app may help remove these files.
This step will install the latest version of the app and hence may help resolve the error code.
Switch To Another Device
This troubleshooting step will help verify if the issue is with the device you are trying to stream HBO Max content on.
If you have another device, try accessing HBO Max on it and see if the app works smoothly.
Get help from HBO Max Support
As a last troubleshooting step, you can try contacting HBO Max support. Since you have tried all possible troubleshooting methods but the error still appears, it means it is from the HBO side.
They should be aware of it!
You should get in touch with the support by visiting https://www.hbo.com/about/contact-us. 
Explain the issue and get help!
FAQs
Why does HBO Max error 1K-0028 appear?
This error can appear for many reasons, including – unstable/slow internet, server issues, a temporary bug, an outdated version of your device's software and HBO Max app, or some unknown issue.
How do I fix this error?
You can apply these troubleshooting steps –
Force close the app and relaunch it.
Reboot your device and launch the HBO Max app again.
Troubleshoot your internet issues.
Update your device's firmware and HBO Max app.
Reinstall the HBO Max app.
Switch to another device.