Are you getting Amazon Prime Video error code 0.28 or 28 on whatever device you are using? Don't worry, you've come to the right place.
In this guide, we will explain the causes and solutions for this error!
Like you, many users have reported this error on their devices like Samsung TV, LG TV, Firestick, Apple TV, etc.
Now, it's time to eliminate this error and get your entertainment back with Amazon Prime.
What is Amazon Prime Error 0.28 or 28?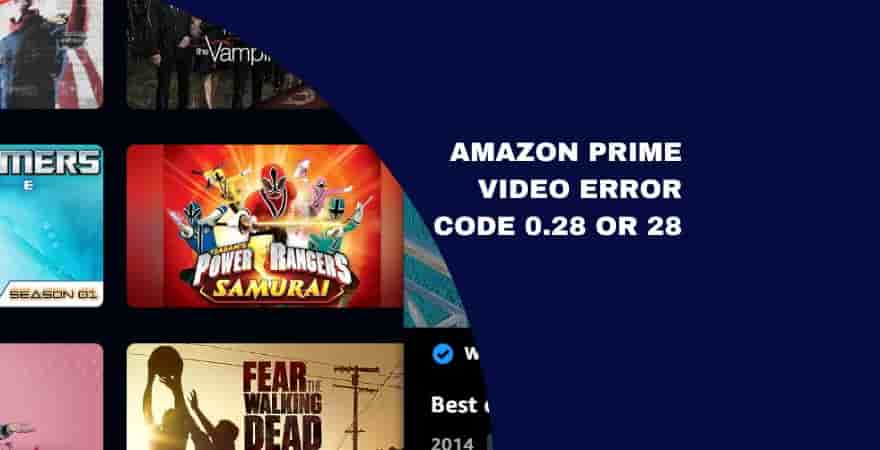 Error code 0.28 or 28 is a connection time-out error. In simple words – there is some network-related issue that is blocking your connection resulting in a timeout.
The error can appear on any device like your mobile (Android/iOS), Samsung TV, LG TV, Firestick, Apple TV, etc., and can stop your entertainment.
What causes Amazon Prime Error 28?
There can be several possible causes for this error, including – 
Temporary issue/glitch/bug with the Prime Video app or the device.
Same account login on multiple devices.
Many devices are connected to the same internet at the same time.
Your internet is unstable/slow.
You have Outdated software on your device.
How to Troubleshoot this Error?
To resolve this error, follow the following methods – 
Close the Prime Video App and Restart your device
Temporary glitches are very common, and very easy to resolve by simply restarting or rebooting your device. In most cases, this helps fix major issues.
So, if you are getting error code 28 while streaming on Amazon Prime, you should consider closing the app, restarting your device, and then relaunching the app. This may resolve the issue.
Make sure you're not using the same account on more than one or two devices
Amazon Prime only allows two devices with the same account to be used at the same time.
If you signed in to multiple devices using the same account, you may receive error code 28 or 0.28. You should consider signing out of other devices to deal with the error.
Release Extra load from the internet signal
If multiple devices are connected to the same internet, it may cause a heavy load on the internet signal and hence may cause connection timeout.
You should disconnect other devices to take some of the load off the Internet. 
Make sure your device software and Amazon Prime app are up to date
The error may also appear if your device is running an older version of the software. Therefore, it is recommended to update your device's software to prevent errors and bugs.
Also, along with your device software, updating or reinstalling the Amazon Prime app should also be considered.
If both your device software and the Amazon Prime app are up to date, the chances of a compatibility error appearing are very low.
Troubleshoot Internet-Related Issues
Since the error is the result of a connection timeout, it is very important to have a stable internet. If your internet is weak/unstable, the connection will timeout and error code 0.28 will appear.
Restarting/rebooting your router or switching to another internet may help.
If this makes no change, try power cycling your router.
Don't Use a VPN or Proxy
Amazon Prime may conflict with your VPN or proxy software/application. This may result in an error like 28.
So if you are using any VPN or proxy software or application, disable it and see if the error is resolved.
Wrapping Up
Error code 28 or 0.28 can occur for several reasons, including poor/unstable internet, an outdated version of your device software and Amazon Prime app, or a temporary glitch. Also, if you are using a VPN or proxy for streaming, you may see the error.
To fix the error, follow the above troubleshooting steps.
FAQs
What does Amazon Prime error code 28 or 0.28 mean?
The error code means that your connection has timed out due to a problem with your internet. However, if you're logged in on multiple devices at the same time, log out and use only one device at a time.
How Do I Fix this error?
Follow these troubleshooting steps –
Close the Amazon Prime app, restart/reboot your device, and launch the app again.
Reboot your router or power cycle it.
Update your device's software and Amazon Prime app.
Log out from other devices and only use one or two devices to stream at a time.
Change DNS settings.
Disable VPN or proxy.
Uninstall and reinstall the Amazon Prime app.
If nothing helps, contact Prime Video support.
Visit https://www.primevideo.com/help to contact support.