Users are encountering the Zoom Error Code 206 when they are trying to log in. Actually, users are getting this error code when they are going to attend a meeting using the Zoom app. When they are going to take a meeting with login, this error code appears on their screens.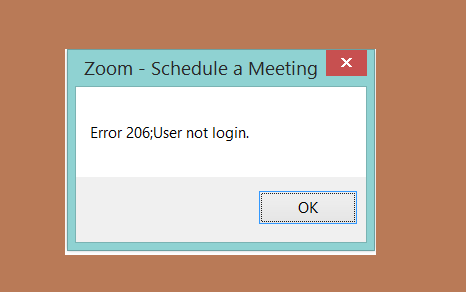 This error code is quite bothering the users, as they are not getting any official announcements and solutions from Zoom. But, this article will help you to resolve this issue as we have collected some very useful workarounds to fix it. Before going to the fixes, you should know all about this error code like what is it and how or when it appeared.
Related:

Know-How to fix Zoom Error Code 3038

Fix Zoom Error Code 103033
All About the Zoom Error Code 206
Zoom error code 206: means that the user token is wrong, and this error appears when you are trying to log in to the Zoom application for taking any online meeting.
Users can get this error code with a different message. Some users are getting the following message with this code:
"The meeting has an Unexpected Error. Error code: 206"
Where some users can get the other one: "Error 206; user not login".
Now, let's move on to the solution to this error code.
How to fix this Error Code
Sometimes, users have already signed in to the SDK and again attempt to sign in. So if you want to fix this error code, please sign out and sign in again if you have already signed in.
If you do not have any idea about SDK, then we have discussed it in brief here:
SDKs represent: Software development kit and these are app development libraries. These libraries help you to boost up your own application with Zoom meetings.
So doing this will resolve your problem, and if in case the issue is not solved, then you should check related forums or you can contact the support team of Zoom.