Updating or restoring your iOS device like iPhone, iPod, iPad or Apple TV might be an easy task to perform but, it may also be quite difficult if you get an error during this process. Many iPhone and Apple TV users have reported an Error Code 4013, which is preventing them to complete the restoring or updating process.
This error seems scary when it appears first, but when you go through this guide, it seems easy to deal with. The steps are included in this guide, you just have to follow them to fix this error code. Let's start with these steps.
Description: Error Code 4013
iPhone Error Code 4013 indicates a problem in Updating or Restoring process. Generally, this appears when iTunes can't communicate properly with the device. A software bug may lead to this error code. Additionally, faulty hardware such as a USB cable or USB port may also cause this error. This error code is commonly called an iPhone error but, it may also appear on any iOS device such as iPad, iPod, or Apple TV.
Fix: Error Code 4013 on iPhone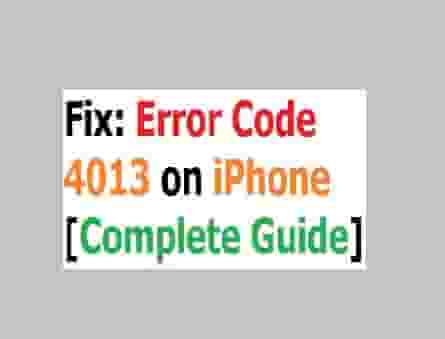 Update iTunes to its latest version
Most commonly, an outdated version of iTunes leads to Error Code 4013. So you can call that this error code is mostly a result of a software bug. iTunes is necessary for updating as well as restoring, and if it does not have its latest version then, might be a conflict occurs that further tend to an error code. So, install its latest version and try again. Hopefully, this action will fix the error code.
Follow the steps here, if you don't know how to update the iTunes version.
Do a simple Restart
Much common solution to fix various errors on iPhone is to do a simple restart of your device. Many times, due to a temporary software glitch, an error may appear, and a restart fixes these types of glitches. So this is good to restart your device once, then after, check if the error code is not appearing still.
Also Read: Error Code 6753- Setup Failed on Apple TV or iPhone
Update your MAC or  Windows
Just like an outdated version of iTunes, an outdated version of your MAC or Windows operating system may also cause the error. 
For MAC OS:
Click on the Apple icon on the screen.
Now, select the System Preferences option.
Next, click on the Software Update option.
If any update will be available, your Mac has found it, now, click on Update Now. 
Wait until it installs its latest version and then restart the device, and check if the issue has been fixed.
Windows OS:
Click on the Update & Security from the left side.
Now, select the Windows Update tab.
Click on the Check for updates button, and the process will start.
Once any update is found you will see on-screen instructions to install it.
If no update is available in the menu, you can go to download a Windows update manually.
Update your iOS device (iPhone) 
If the error is as it is, then connect your device to a computer (Use USB cable). When you do so, you will see a notification window popup with two options whether you want to restore or update your device.
Advice: If you select the Update option, which you should do, your data remains the same, and only the operating system install. But, if you select the Restore option, all your data will delete. So be careful on this step.
Check USB Cable
As we have discussed above, iPhone Error Code 4013 may also appear due to faulty hardware that is a USB cable. When you use a faulty USB cable, your device isn't able to connect properly with iTunes, as a result, the error code is shown on the screen. So keep in mind, always try to use a good quality USB cable that allows file transfer from one device to another device. Additionally, you should check your USB ports. If the port is loosening, then try to use another port.
Use a Different Computer
Using a different computer to restore may help if you have failed to figure out whether your USB cable or the port is faulty. Changing your computer's port is much tough than using a different computer. So, try to use a different computer instead of manufacturing your old one.
Nevertheless, if the issue is still, as it is, you can contact Apple Support with your problem.