Is Apple Music Not Working on iPhone or iPad? This can be frustrating for anyone and disrupt the equilibrium of the day. There can be several possible things that intercept the flow of the app's work. 
Many users are facing some common issues when they are going to play a song or accessing the music library on Apple Music. So, if the same situation is with you and got frustrated then, fortunately, we have some tips for you. 
Common problems that have been reported by users
Here are some issues that users are facing:
Login issue.
Unable to sync.
Unable to play music on Apple Music.
"Apple Music" freezes (unresponsive).
So, if you have got any of the mentioned issues, then below are some tips for you. Read them, and we are hoping that the issue will resolve.
Quick Actions To Fix Apple Music Not Working on iPhone/iPad
If Apple Music Not Working on iPhone/iPad and facing login issues, syncing issues, unable to play music or Apple Music freezes unresponsively then, follow these quick hacks to resolve the issue:
Force Restart your Device.
Check high-quality streaming and toggle off it.
Turn off your mobile data and connect with wi-fi or if wi-fi is not available then, set your phone to airplane mode and off this mode after a few seconds.
Delete the particular song that is causing an issue and re-download it, and see if the problem has been fixed.
Close other similar apps if you have installed them on your device and try to stream on Apple Music.
If you are facing any issue with explicit content music then, access  Settings > Screen Time > Content and Restrictions and uncheck Restrictions. If songs are still not playing, access and open the Podcasts app and confirm to allow explicit content through it.
Check for the iOS updates, go to settings, and access updates if available any update and install that and try streaming music on apple music.
If you are facing the syncing issue then, try to restore your device, and check if the issue has been fixed or not.
Recommendation: Before doing a factory reset of your device, take a backup, so that you won't lose the data of your device.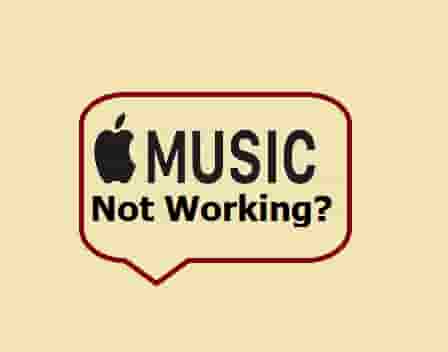 Factory reset iPhone with iTunes
Here are steps to do a factory reset your iPhone through iTunes:
Connect your phone with your computer and open iTunes.
Select your device (iPhone) from the left menu in iTunes.
Now, click on the restore button and select the backup option to take a backup of your content on your computer.
Next, click on the Restore option.
Now, iTunes start restoring the software on your iPhone. Don't detach your phone from your computer during this process.
Once the process is finished, iTunes will ask you if you want to restore from the backup that you had taken before. Select the "Set up as a new iPhone" option and enter the name of your iPhone device and all is done.
Last Words
However, we have tried to include all possible actions to fix the issue of Apple Music Not Working but, if you get any other method that is not mentioned in this guide then, feel free to share with us in the comment section. Hoping this guide helped you. Enjoy listening to music on Apple Music. Thanks…
Other Apple Music Related Errors and Their Solutions:

Apple Music Error Code 42800

Apple Music Error 1852797029

Fix Apple TV Error Code 71163