On different-different devices, users are facing issues with Amazon Prime, they are saying that the platform has sound but they are facing a black screen while streaming. 
Let's see why this issue is appearing and what you should perform with respect to resolving this issue; if you are facing it on your device.
Why am I seeing a black screen on Amazon Prime, while it has sound?
Pending updates for your device, graphic driver, and pending update for your device, Amazon Prime could cause this issue. In addition, a VPN, antivirus software, unstable internet connection, and corrupted app cache could also cause a black screen on Amazon Prime.
Not a single but many devices could be affected by this issue. On some, the screen is going black but the audio is working, while on some, only a black screen is appearing with no sound.
On what devices has this issue taken place?
The devices that are affected by this issue are:
Apple TV and could be more.
Let's see the steps according to the devices that will solve this problem and resume your streaming.
To See a list of Amazon Prime errors and their solutions, visit on this link.
Amazon Prime Black Screen Issue On PC: Try these Steps To Fix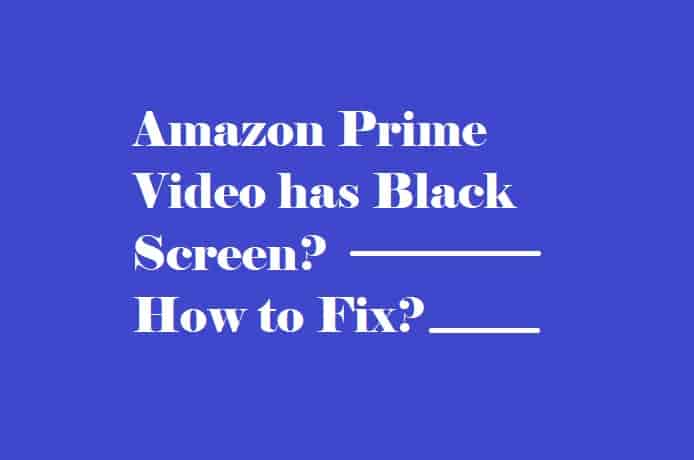 Restart Your PC 
The first and simple step to check if the issue is temporary or not is to restart your PC.
If the issue is resolved, you don't need to go further. 
Enjoy your streaming on Amazon Prime 😊.
If it is not fixed yet, move to the next step.
Check Amazon Prime Server Status
If the Amazon Prime servers are facing issues, which can be due to heavy traffic or some maintenance, you may face issues with the streaming. It could be a black screen with or without sound.
So, check the status and see if all the services of Amazon Prime are up and running or not.
Check For a Stable Internet Connection
It is most important that you do have a stable internet to stream online content on any platform. A weak internet doesn't allow a platform to establish a proper connection to its server.
So, if you are seeing a black screen while streaming on Amazon Prime, you must check your internet.
Try to restart your router. This will help to establish a fresh connection.
Additionally, you can power cycle your router which will help the internet device to take a rest for a few minutes, and after a few minutes, restart it.
Sign out and sign in to your Amazon Prime Video account
Go to your profile and select the sign-out option and click to get signed out from your account.
After that, sign again and start streaming, and see if the black screen is not appearing this time.
Disable VPN
Rarely, VPN software may create issues if you have one installed on your PC or if you have an extension of VPN. 
So, disable VPN and stream again. 
Clear the Browser Cache and Cookies Data 
If you have searched a lot on your browser and haven't cleared cache and cookies data for a long time, it could create issues.
Just clear the data and try streaming again. To do this,
Open your browser and click on the three dots at the top right of the screen.
Go to the more tools and click on browsing history and data.
Select the time range and check the boxes next to the options of your choice but, don't forget to check the boxes next to the history, and cache.
Click on clear data and confirm your selection.
Relaunch the prime and see if the black screen is still appearing or not.
Update the Graphics Driver
The Graphics driver on your pc helps to play a video. If the drivers are outdated, video playing may be hindered.
So, check for updates and install them for your graphic drivers.
Switch to a Different Browser
Switching to another browser does work sometimes; when your browser is having issues.
If you're on Google Chrome, move on to the Edge or Firefox…
Amazon Prime Black Screen Issue On Fire TV 
The problem could arise if you start or stop streaming a title in 4K Ultra HD. The TV screen could possibly flicker or goes black for a few seconds. 
Here are the steps that you can try to fix this black screen issue on Fire TV:
First of all, restart your Fire TV device.
Use the connection equipment that came with your device.
Disconnect the Fire TV device from the HDMI port and plug it back in.
Check and replace your HDMI cable or HDMI hub with a new one.
If you're streaming titles in 4K Ultra HD, always use a High-Speed HDMI cable.
Match your remote's source or input button to the HDMI port that your Fire TV is plugged into.
Clear Amazon Prime Cachae & Data.
To fix Amazon Prime's black screen issues on mobile devices, relaunch the app, clear the app cache and data, also clear other unnecessary app cache & data. This should fix the issue, and if not, then uninstall and reinstall the app. Lastly, contact amazon prime support.
Disclaimer: All the above information is provided in good faith and the purpose is informational only. However, we make no representation or warranty of any kind, express or implied, regarding the accuracy, adequacy, validity, reliability, availability, or completeness of any information on the Site.