Some errors on Microsoft Teams- occur frequently, while some are rarely. Microsoft Teams Error caad0009 is one of these errors that rarely appear on the user's screens. One more thing about this error code is this usually appears on the desktop app, so the appearance of this error on the mobile application or the web is also rare. 
So, if you don't have much time to resolve this error, or you are in hurry to attend your webinar or meeting, you can use Microsoft Teams web or mobile application. 
Microsoft Teams is not a platform that is used only to attend or create meetings and webinars, this could also use to chat with your colleagues or share something- like media documents with them. So, this includes many features, not only a single one.
If you have decided to fix this error code, read the explained methods below and get your solution.
How to Fix Microsoft Teams Error caad0009?
You gonna found something helpful to you, here are the actions that could solve the problem without wasting much time of yours.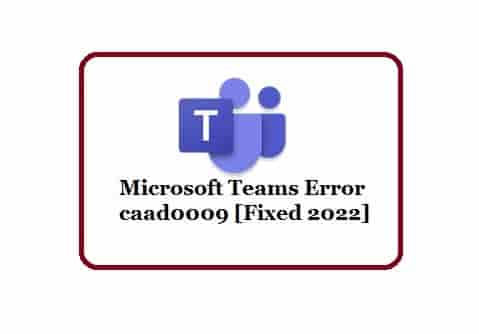 Run the MSTeams as an Admin
Close the application and find out its shortcut.
Right-click on it and select properties from the appearance.
Next- under the compatibility tab, check the box next to the option- Run this program as an administrator.
Now, launch the application again and check what is the appearance status of the error code.
In addition, running the application in compatibility mode for Windows 8 has resolved the error for many users. You could also, try this and see if this can work for you. 
To do this, just check the box next to the option- Run this program in compatibility mode for Windows 8.
Clear Cache Files
Corrupted cache files may fail your login session and carry an error code like- Microsoft Teams Error caad0009. So to fix such types of errors, clearing them is a better choice for you. 
Exit the MSTeams completely and open the Windows search bar to type- %appdata%\Microsoft\Teams  in it.
A list of folders will be in front of you and looks like this:
%AppData%\Microsoft\teams
\application cache\cache
%AppData%\Microsoft\teams
\blob_storage
%AppData%\Microsoft\teams
\databases
%AppData%\Microsoft\teams
\cache
%AppData%\Microsoft\teams
\gpucache
%AppData%\Microsoft\teams
\Indexeddb
%AppData%\Microsoft\teams
\Local Storage
%AppData%\Microsoft\teams
\tmp
Open one by one all the folders and delete all the cache files stored in them.
Then, restart your system and try launching the Teams application and see if the error is not appearing this time on your screen.
Clear MSTeams credentials
Stored login information may create some issues, so clearing them may help. Here is how you will perform this:
Open Windows search and type- credential manager and hit the Enter button on your keyboard.
Click- Windows Credentials.
Scroll down and find the Microsoft Teams Credentials. 
Click on your login details and select the Remove button.
Now, restart your computer, launch the Teams then enter your login details again.
Disable Antivirus and Proxy
Antivirus software may create problems in login into your MSTeams account. So, disable it and make another try. See if this quick step resolves the issue and get back to you in the meeting.
Learn- How to disable Antivirus software (Windows) and for Mac, you can visit here.
Also, disable the proxy from your system if you use any.
Contact Admin
If you work for an organization and get this error code, contact the admin as they have the right to change the organization settings. Maybe, they have disabled your device and you are failing to connect with the organization network. Sometimes, VPN may fail to recognize your device or your device does not appear on the organization's internal network. So, contact your admin and tell the problem to them, they can help you in this situation.
Uinstall and Reinstall
Maybe, the problem is with some files that you have installed with Microsoft Teams. Let's uninstall of MSTeams and reinstall its fresh copy so that new files are installed. This way, the problem may fix out.
Conclusion
Concluding Microsoft Teams Error caad0009, this indicates a problem in signing in to its desktop application. To fix this error, run the application as an administrator, clear- the cache files and login credentials, disable antivirus and proxy, uninstall and reinstall, and when nothing helps, contact the IT admin of your organization.
Disclaimer: All the above information is provided in good faith and the purpose is informational only. However, we make no representation or warranty of any kind, express or implied, regarding the accuracy, adequacy, validity, reliability, availability, or completeness of any information on the Site.