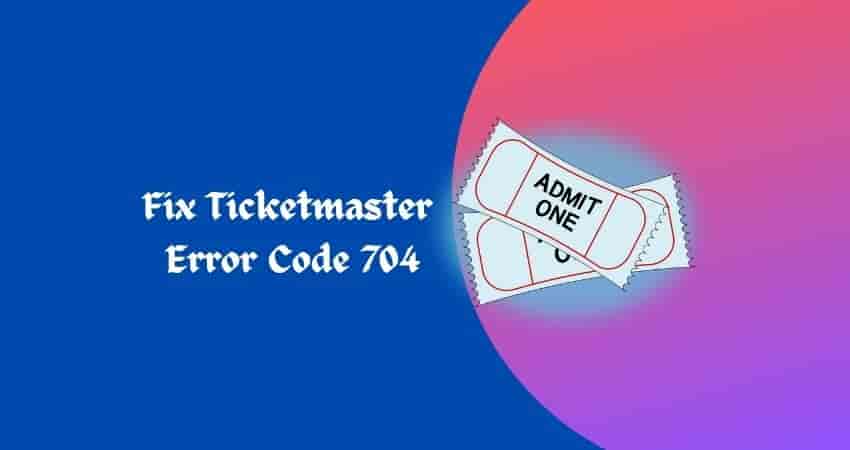 Ticketmaster Error Code 704 at a glance:

Platform – Ticketmaster App or Website.
Error code – 704
Occurs – This error occurs while booking or purchasing tickets.
Effect of the Error –  users are unable to complete the purchase.
Cause: Undefined, however, you can consider session timeout, location and availability issues, corrupted browser's cache, server outage, account issues, etc.
Have you decided to spend your time enjoying the events organized nearby? Ticketmaster is a platform where you can buy or book tickets for events, however, an error may occur on the platform and your booking may get canceled. Recently, some users have reported error code 704, which is racking their brains. 
In this guide, we will explain the possible causes and troubleshooting steps for this error so that you can easily book your tickets and enjoy your time.
What is Ticketmaster Error Code 704, and what causes it to appear?
Ticketmaster error code 704 is a common error that may appear due to an interruption in the transaction process. After showing seat availability, you have only 5 minutes to complete the purchase, if this time has passed, the transaction process may be interrupted resulting in an error like 704.
How to Fix Ticketmaster Error Code 704?
Troubleshooting steps are very simple, these include the following – 
Resubmit your ticket request and try again
Starting the ticket booking process afresh assigns a new session to the process and hence it may resolve the error code. If the old session has expired, starting fresh will result in a new session, and hence it may help fix the error.
Change your Location 
The error 704 may appear if you try to book more tickets than what's available at your location, or if the tickets have already reached the full capacity. 
To solve this, try booking your tickets from a different location where you see the availability of the tickets.
Verify Ticketmaster's Server Status
Due to a very popular event or show, heavy traffic can rush on the Ticketmaster website or app, causing the server to crash or overload. As a result, many people may face issues in booking or purchasing tickets for that event, and sometimes, an error code such as 704 may also appear.
Visit https://downdetector.com/status/ticketmaster/ to check if the server is down or not. On the given URL, you can see reports from other users about the server's status. If it's confirmed to be down, wait until it's fixed.
Clear Cache
Error 704 can also be the result of a corrupted cache stored in the Ticketmaster app or your browser, causing the Ticketmaster app or website to not function properly. Try clearing the cache to see if that solves the problem. To clear the cache –
Android Users: Go to Settings -> Apps -> Ticketmaster app -> Storage -> Clear Cache -> Clear Data.
iOS Users: Access Settings -> General -> Ticketmaster app -> Storage -> Offload app -> Reinstall.
Chrome browser: Click on Three vertical dots -> Settings -> Privacy and Security -> Clear browsing data -> Advanced -> Time range (All-Time) -> Clear data.
Switch to another Browser
If all the above steps fail to work, try using a different web browser to access Ticketmaster. For example, if you are using Firefox, switch to Google Chrome and vice versa.
Final Words
By following the above troubleshooting steps, you should be able to resolve the Ticketmaster Error Code 704 and successfully order your tickets. 
If you are still facing the error, we would suggest contacting Ticketmaster support.
Visit https://help.ticketmaster.com/hc/en-us/ to get in touch with the support team.