So, you don't know what is going on with the Schlage Home App why is Schlage Home App not working? Why Schlage Home App keeps crashing or why it does not allow you to log in to your account? Don't worry, in this post, you will know the causes and the solutions to Schlage Home App issues.
Security of your home is a priority when you go outside. Generally, people hang a lock on their doors and think that their homes are secure. Schlage Home App is next level in the house/office security. Now, locks are getting smarter and replacing the old types. Now, you can connect your locks to your phone and monitor it from anywhere.
Schlage home app is one such app that allows users to monitor their locks from their smartphone with a secure encrypted connection, and pair their locks with leading smart home devices. 
If you are facing issues with this app, nothing to worry about, this guide will provide you with solutions for that issues.
Why is Schlage Home App Not Working on my device?
Schlage Home App may stop working due to a malfunction in the internet connectivity or when your router is on an unsupported wifi band. Moreover, the second most possible cause can be your Schlage lock's outdated firmware.
Besides these, there could be some other causes too:
An outdated version of your Schlage home app.
Keeping these causes in mind, let's see what you can do to get Schlage Home App Working back.
Read Also: How to fix Alarm.com app not working?
How to fix Schlage Home App Not Working?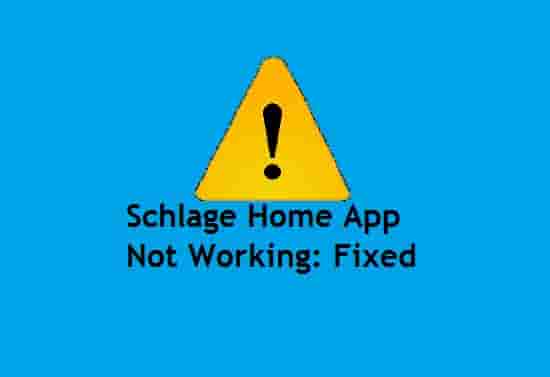 Restart/Reboot your Device
The first step that you should follow to fix "Schlage Home App Not Working" is to restart your phone. Before rebooting, force close the app on your phone and then press the power button, and select the reboot option.
After rebooting, launch the app again and see if it is back to work or not.
Check Internet Connection
If your internet connection gets interrupted or malfunctioned, you may face issues with the Schlage Home App. The internet connection is generally, interrupt due to a poor speed or unstable internet signal.
So, check your internet: try opening another app and ensure that your wifi is working properly or not.
If another app is working properly then, the internet is not an issue. Your internet is good.
Besides these, perform a speed test of your internet to make sure that it is not below the 5 Mbps. Power cycle your router- unplug from the power source and wait for 3 to 4 minutes and then, replug it back and restart it. Now, reconnect your device.
To fix issues with Schlage Home App, Switch on the Airplane mode of your phone and OFF it back. Relaunch the app and see if this helps or not. Alternatively, switch to your mobile data- if you are on a Wi-Fi connection and vice versa.
Check Wi-Fi Band
Some routers come with a 5GHz Wi-Fi band, and some Schlage locks do not work with this band. So, if your router is on this frequency, the Schlage home app may stop working.
Mostly, Schlage locks work with the 2.4GHz Wi-Fi band. So, if the Schlage home app isn't working using wi-fi, ensure that your wi-fi is operating on this frequency or not.
Notable Lines: To change your Wi-Fi bands, you have to go to your router admin page. Use your router manual for better assistance or calling your ISP agent should be a better option.
Clear App Cache
To fix the Schlage Home app not working on iPhone: Go to iPhone settings -> General -> Click on Schlage Home App -> Click on iPhone Storage -> Click on Offload App button -> Again Reinstall Schlage Home app. This will clear the app cache & data and the application will start working again.
If the Schlage Home app is not working on Android: Go to settings -> Manage Apps ->  Search for Schlage Home App and click on that -> Tap on clear cache, confirm your choice. Next, to clear app data, click on data and confirm your choice again.
Now this way Schlage Home App cache and data should be cleared. After this, the issue should be fixed and the Schlage Home app should start working.
Note: Clearing cache may involve different steps according to your device.
Check Server Status
If the servers are too busy or undergoing some maintenance work, the app may stop working. So, if the above steps have been tried by you and nothing has changed, check the server status of Schlage. 
If any maintenance or downtime is with the servers, wait until the Schlage team fixes it.
Update Schlage Home App
If the Schlage Home app hasn't been updated for a long time, the app may stop working. So, update the app and see if after installing the update, the app starts working or not.
Note that if the issue was due to an older version, the app will start working again.
Update Your Schlage Lock(s) Firmware
Because the Schlage home app is used to connect with the lock, so the lock's firmware should also be updated. In most cases, users try to install an update for the app and forget to check for the lock's firmware. So, to fix the issue with the Schlage app, check if the lock has any firmware update or not.
Reset Your Lock
If you have applied all the above methods and still have no change in the issue, try resetting your lock and see if this helps to get back the Schlage app working again or not. Remember that resetting your lock will vanish all the pre-settings made by you. So make sure that you have the default programming code before resettings. 
After resetting the lock, the Schlage app working should get back to work.
Conclusion
If Schlage Home App Not Working, reboot/restart your device, check your internet connection, check your Wi-Fi band, clear the app cache, and check the server status. Moreover, update the Schlage Home App, update the Schlage lock's firmware and reset your lock.