Class Dojo is an educational application and website that provides communication features, chatting features, and many more. Messages on Class Dojo can be translated into more than 34 languages, and this is a good feature in it. Today we are going to explain How to retrieve Messages from Class Dojo and print them all. If you are curious about this then, read this guide. 
The Class Dojo has made education for children very easy and also, the connectivity of their parents. Now let's learn how you will retrieve the messages or chats on this application.
Steps to Retrieve Messages from Class Dojo
Click on the profile icon.
Select "Account settings" and click on this.
Now, click on the "Messaging" tab from the left side of the appeared screen.
Next, next to the "Download message history" option, click on the "Download" button.
Now, you will see a list of all the classes in alphabetical order (Classes will be in the name of the parents from those you have ever messaged)
Click on the name of any parent or a class to download all the sent messages between you and the parents. That's all.
Note: The downloaded file will be in .txt format, so you must have a program that can open such types of files so that you can read the downloaded message. Additionally, the good thing is that this downloaded file will include the messages from deleted parent accounts. So, if the parent's account has been deleted yet, you can download the message between you and that parent.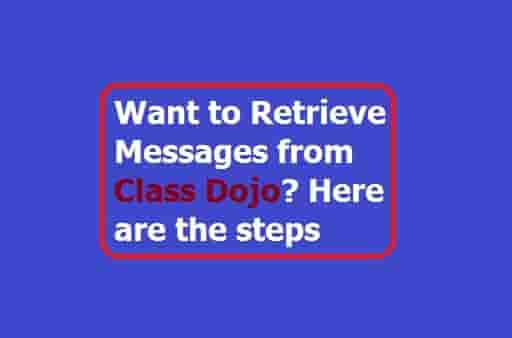 iOS and Android Users
For iOS and Android users, this feature is currently not available. So if you are trying to Retrieve Messages from Class Dojo then, you have to wait until the company launches this feature for these devices. However, downloading the message from the web is too easy to perform and no issue should happen in doing this.
Conclusion
That was all about How to retrieve Messages from Class Dojo. However, this feature doesn't come for iOS and Android users but, this is very simple for the web. After applying the steps, you will be able to download the message but these messages will be in a .txt file. So make sure you have an application that can open this file. 
If you have any issue downloading the message or any other issue related to Class Dojo then, feel free to comment us.