You can use Firestick to access various streaming services, including Netflix, Hulu, Amazon Prime Video, Disney+, and HBO Max. You can also install the Sportsnet app for sports news, scores, live streaming, and video highlights. But, for some Firestick users, the Sportsnet app is not working. 
If you are also facing issues with the Sportsnet app, you are on the right webpage!
In this guide, we will explain the possible reasons why the Sportsnet app is not working on your Firestick device and what troubleshooting steps you should follow to get rid of this problem.
Why is the Sportsnet app not working on your Firestick device?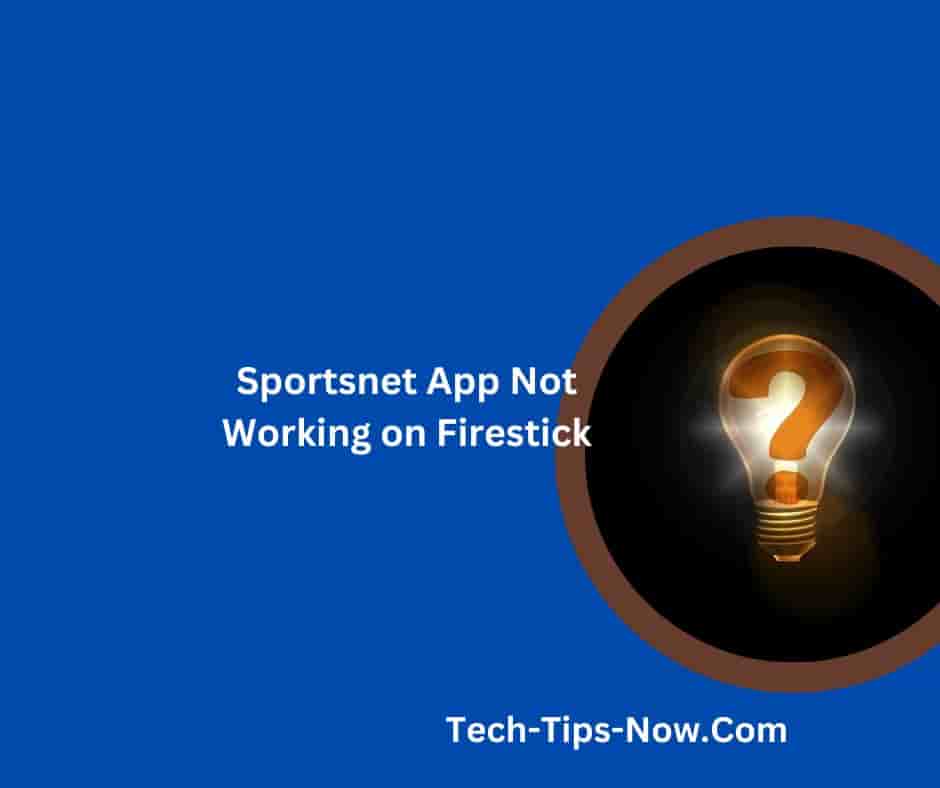 If you're getting error messages like "Check your Internet connection" or "error_timeout" when trying to watch a game on the Sportsnet app, it could be due to a network issue or a server issue.
A temporary glitch with your Firestick device can also cause this problem where the Sportsnet app may become unresponsive or throw an error message.
Reason – Unstable/slow internet, server issues, incompatibility problems, or any other technical glitch.
How to fix if the Sportsnet app is not working on Firestick?
There can be many reasons responsible for the "Sportsnet app not working on Firestick" problem, but by applying some simple troubleshooting steps, you can easily get rid of this problem.
Fix Your Internet Issues
The first requirement to run any application (Online) on Firestick is to have a stable and strong internet connection.
In significant cases, if the internet connection becomes slow, applications become unresponsive. 
So, if you are facing issues running the Sportsnet app, check whether you have stable and robust internet. 
Take these measures –
Restart/reboot your router.
Unplug the router from all connected cables and leave them for 5 minutes.
Replug the cables and wires and restart your router.
If available, switch to another internet option.
Reboot Your Device and Relaunch Sportsnet App
Minor bugs or temporary glitches may be resolved by performing this step. Sometimes, the Sportsnet app may get unresponsive due to a temporary glitch or bug. 
Follow these steps:
Press and hold the "Home" button on the Firestick remote.
From the menu, select "Settings."
Scroll down and choose "My Fire TV."
Select "Restart."
Relauch Sportsnet app.
Reinstall Sportsnet App
The app files may get corrupted and hence the app may become unresponsive on your Firestick device. In this case, uninstalling and reinstalling the app will help resolve the issue.
From the home screen, navigate to the Sportsnet app and select it.
Press three horizontal lines or the "Options" button on your remote.
Select "Uninstall" to delete the app.
After uninstalling, go to the Amazon Appstore, search for "Sportsnet," and reinstall it.
Verify Server Status
Sportsnet's server outage may occur due to heavy traffic or some maintenance work. Verify and wait for a while until the issue is resolved by the backend team.
Visit https://twitter.com/Sportsnet to report and get details of the issue.
Contact Support
If the issue is still there or you are still unable to access the Sportsnet app on your Firestick, it is a good choice to contact SPortsnet support for further help.
Visit https://www.sportsnet.ca/contact-us/ to contact and explain your issue.