Are you facing login issues with the DoorDash app? Are you entering credentials and hitting the login button but, the platform does not allow you to sign in? This guide will help you. 
Login issues are pretty common and don't allow us to use the platform, whenever the login issues happen. There could be several reasons why a login issue might happen. Even, login issues could also be of several types. Let's see the types of login issues that a user might face using DoorDash.
Different Types of Doordash Login Errors or Issues
Here are some sign-in or login issues or errors that a user might see whenever his/her sign-in getting failed.
"The operation couldn't be completed. DoordashDriver.ReponseStatus-CodeError error 1"
"Unable to authenticate. Please verify that your user's credentials have been entered properly and try again"
"We are currently experiencing technical difficulties. Please try again later"
"Your account/IP has been blocked, please contact support"
"You do not have permission to perform this action. Doordash"
"Too many failed login attempts"
"Doordash driver login: something went wrong"
What could be the reasons for getting a sign-in issue on DoorDash?
A sign-in issue or error could be a result of several things, a wrong login credential, privacy violation, server issues, an outdated version, corrupted cache, network connectivity issue, or third-party application or software such as VPN or antivirus could be the most possible cause.
Note: Before proceeding to the troubleshooting, please check your registered email as DoorDash sends an email if any issue is going on with your account or the platform. So, if you're facing a sign-in issue with your DoorDash account, check your email, here you will know the exact cause of the issue.
How to Fix "DoorDash Login Issues."?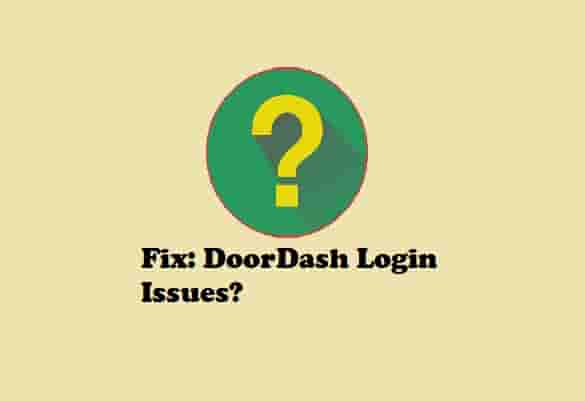 Check your Login Credentials
Wrong credentials are the most common cause of getting sign-in issues with the DioorDash. So, as the first step, you should check your credentials one more time and verify that it is the same as you had used to register with DoorDash. 
Check Internet Connection
The second most possible reason for getting sign-in issues with DoorDash is an unstable or poor internet connection. So, if the platform doesn't let you sign in, check your internet connection, and make sure it is good enough or has a good speed.
Restart Your Device
Close the DoorDash app and restart your device. Sometimes, the glitch is temporary, and restarting your device could be the best and easiest way to resolve it. 
This may fix sign-in issues with DoorDash.
Reset Your DoorDash Password
Sometimes, you forget your password, however, you will get an indication of using a wrong password but, this may also be a cause of getting a sign-in issue.
In this situation, resetting your password and creating a new one is the best solution.
Update DoorDash
An outdated version of the DoorDash app could be another cause of getting sign-in problems. So, check and update the DoorDash app to its current version and prevent login issues.
Disable VPN
A VPN could prevent your login, how, DoorDash is available only in the USA and a VPN may be set to another location that does not come in the service area of DoorDash. So, to prevent sign-in or log-in issues with DoorDash, Disable your VPN and try again.
Clear DoorDash Cache & Data
DoorDash cache & data may get corrupted and cause an issue when you attempt to sign in to your DoorDash account. So, clear the DoorDash app cache and the issue will be resolved. 
Android users, Go to settings >> Find DoorDash App >> Click on the clear cache option. The DoorDash App cache will be cleared.
iPhone users, Go to iPhone settings >> Go to General >> Tap on iPhone Storage >> Find DoorDash App and click on that >> tap on Offload App button >> Now, install the DoorDash app again.
Check Server Status
If you have a sign-in problem with DoorDash, check the server status as the server can go under maintenance or be affected due to huge traffic. 
In such conditions, waiting is the only solution as you can not do anything from your end, DoorDash developers will look into the issues and resolve them.
Uninstall and Reinstall DoorDash
Yet, if you haven't reached any solution, uninstalling and reinstalling the DoorDash app could be a solution.
Installing a newer version would resolve the login issues and you would enjoy your orders.
Conclusion
To sum off, login issues with DoorDash could arise due to a lot of factors. To fix it, check your credentials, reset your password, check your internet connection, disable VPN or proxy servers, clear DoorDash cache, update the DoorDash app, check server status, uninstall then reinstall DoorDash, and lastly, if nothing helps, contact DoorDash support.