Crunchyroll Error Code 2000: This is an unexpected error code that troubles various users, especially Fire Stick users. The error started appearing after the last Fire Stick update. After the update, users started seeing a buffering screen while streaming Crunchyroll content.
Some users are unable to sign in to their Crunchyroll account and if they have somehow signed in, the error is showing up when they start streaming something.
Officially, there is no update at the time of writing this article. But, luckily, we have found some workarounds that can help you resolve this error. 
How to Fix Crunchyroll Error Code 2000?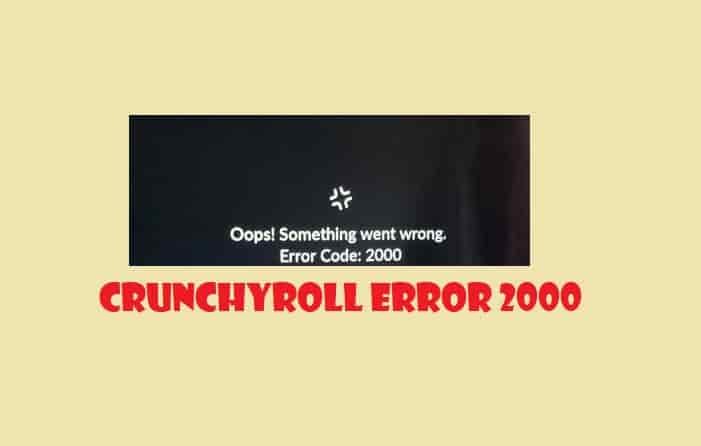 To fix Crunchyroll error 2000, restart your device and the Crunchyroll app, and then make sure that your streaming device (Fire Stick) is connected to a strong and stable internet.
If the error is still there, clear the app cache and check if your device/app needs to be updated.
Server-side issues could also cause the error, so check if the Crunchyroll server is up and running or facing some kind of problem.
#1. Check Crunchyroll Server Status
Most likely errors can occur due to an overloaded server or any maintenance. In such a situation, you can wait for some time till the server is fixed and running smoothly.
Visit downdetector.com and type Crunchyroll in the search bar.
See if there is a spike in the graph.
If so, wait for a while and try again.
#2. Check Your Internet Connection
Bad or unstable internet can cause buffering problems and hence error code 2000 can appear on Crunchyroll. So make sure that your streaming device is connected to a strong and stable internet. You can reset your router to check if it helps to resolve the error.
#3. Restart/Reset Your FireStick Device
The issue may be with your Fire TV device. Restarting the device may help get rid of the error code.
Press and hold the Select + Play/Pause buttons for 5 seconds.
Use the Arrow key to highlight the Reset option.
Press the Select button to select the Reset option.
The device will restart and reset to its default settings.
#4. Clear Crunchyroll App Cache
If the Crunchyroll error 2000 is appearing on your Firestick device, clearing the app cache might help to get rid of the error. 
Select "Settings" and then "Applications". 
Scroll down and select "Manage Installed Applications". 
Select "Crunchyroll".
Select "Clear Cache" from the next window.
#5. Update The Crunchyroll App
Select "Settings" from the Home screen.
Select "Applications".
Next, select "App Store" and then tap on Automatic Updates to turn it On.
The update for the Crunchyroll app or any app will be automatically downloaded.
#6. Contact Crunchyroll Support
Submit your request and wait until a response comes.
You can also chat with the support. 
Related Questions
What is Crunchyroll error 2000?
This error is causing streaming issues for a lot of users across the world and is mostly affecting FireStick users.
Is there any official update on error 2000?
At the time of writing the article, officially, no announcement has been made to get rid of error code 2000. Maybe, Crunchyroll's team is working to understand the error, so they may release an update to fix it.
What are the other Crunchyroll error codes?
Crunchyroll has many error codes such as 114, RNV-2014, SHAK-7000, MED-1, Shak 3016, 1020, etc. Here is a list of Crunchyroll error codes and their solutions.