To manage all your financial services using your mobile, the Barclays app is a great option. But, errors can come back to haunt you – SF001 is one of the many Barclays error codes. Are you seeing this error too? Don't worry you've reached the right place!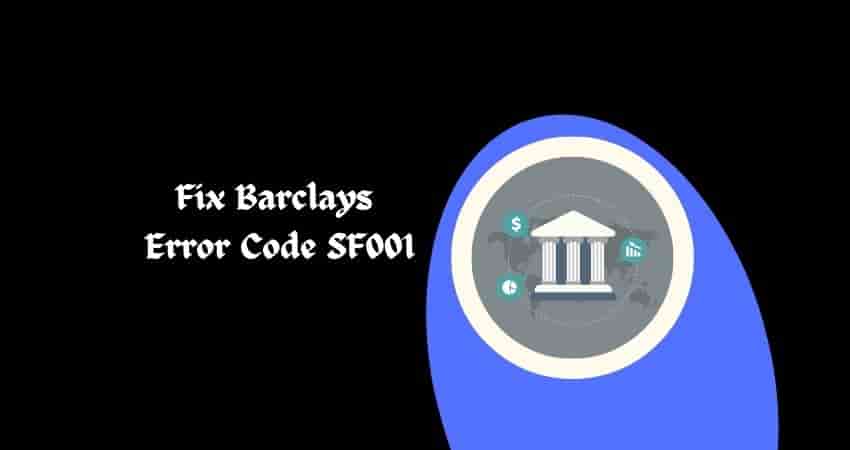 In this guide, we will explain what this error says and what are the troubleshooting steps to get rid of it. 
What does Barclays Error Code SF001 Say, and Why Does it Appear?
Barclays error code SF001 is considered a common error that says – "SF001 – Sorry, a technical problem has occurred." The error is the result of a technical problem with the Barclays system. 
Technical problems may arise mainly during server reboots or any other maintenance work. But sometimes, an outdated app or software version of your device can also cause a technical issue.
Read – How to Fix if Barclays App is Not Working
Are there any server outages or maintenance with Barclays?
First of all, you should consider checking and verifying the server and maintenance status with Barclays as this can be the first and most common reason why an error like SF001 appears.
To check and verify whether the Barclaycard app, Barclaycard Online Servicing, Barclays app, Mortgages, Online Banking, etc are running or down, you can visit https://status.uk.barclays/. 
If services are down or under maintenance, wait until they come up and running again.
How to Troubleshoot Barclays Error Code SF001?
Although the error is a result of a system problem with Barclays, there are still some simple troubleshooting steps that you can follow to get rid of this error.
Hard close the Barclays app, Reboot your device, and Relaunch the app
From App Settings, force close the app and reboot your device. After this, launch the app again and see if the error still appears or not.
Check for updates for your device software
If restarting your device and relaunching the Barclays app causes no change, it may be your device's software that needs updating. To use the latest version of the Barclays app, you must have iOS 9.3 or above, or Android 5.0 or above.
Android Users
Tap the device's Settings app.
Tap on System and go to System Update.
Follow the steps on the screen to get the latest version of your Android software.
iPhone/iPad Users
Go to Settings > General > Software Update and tap on Automatic Updates, then turn on Download iOS Updates. 
Turn on Install iOS Updates. 
Update or Reinstall the Barclays App
After installing the latest version of your device, it is also recommended to reinstall the Barclays app to avoid compatibility issues. To install the latest version of the Barclays app, you can simply update the app from the App/Play Store or reinstall it. 
Contact Support
If none of the steps help resolve the error then it could be an issue with your account or something else. The support will find out what the actual problem is and come to you with the appropriate solution.
Visit https://home.barclays/contact-us/ to get in touch with support.