Wordscapes is a very engaging game and quite popular among people. If you love to play with words then, this game you would like definitely. This game provides a lot of word puzzle that is quite engaging. Usually, users play this game to improve their vocab knowledge and also to check their vocab knowledge. Like many online games, this also has some icons, and this guide will explain these Wordscapes Icons and their meaning. So there would be a lot of fun, as in this guide, you will also get some useful instructions to play this game. 
Wordscapes Icons Explained
Before going to the instructions, let's know the Wordscapes icons and their meanings first. Generally, you can find out the four most popular and frequently appearing icons in this game. These all icons have some meanings in the game. So let's know what they indicate.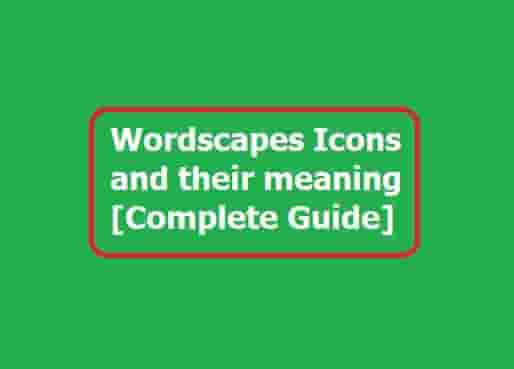 Bullseye
The Bullseye icon allows players to reveal a single letter behind any blank space according to their choice. Users can use this icon when they want to complete the word puzzle, and they don't have many options.
Lightbulb
The Lightbulb icon helps users to reveal a complete word of their choice means; a user can put a complete word of his/her choice using this icon. If you are in the game and want to reveal a complete word, you can surely use this icon.
Rocket Pop
A user can use the Rocket Pop icon to reveal multiple letters at random. Usually, this icon is used to spread out the fireworks pixels. 
Spelling Bee
The Spelling Bee icon allows users to reveal letters and leave Coins on the toughest words in the puzzle. Users can't earn this icon until they do not shell out real money.
Generally, all the icons can be earned in the game by playing the game and earning the game coins except Spelling Bee. Only, the Spelling Bee icon can be earned by shelling out real money. 
Instructions to Play Wordscapes
Here are some instructions you can follow before going to play the Wodscapes.
Try to spell words by using the letters you have.
Connect these letters by swiping between them, and make sure this should be done in a continuous motion.
If you have formed a word that is appearing in the puzzle, the blanks will fill by this word on your screen.
If a valid word formed by you doesn't fit in the puzzle, this will be a bonus word for you. The bonus words earn Coins. You can use these coins to buy the more power-ups icons mentioned above.
If you are playing invalid words, you will not be penalized for that.
Fill out all the blanks in the game to complete the level.
Don't forget to read:

Free Math Games For Kids in 2021

How to keep safe your digital privacy