Are you facing WebEx Error Code 30000, and you are unable to attend your webinar? This guide is dedicated to the causes and solutions of this annoying error code. Here you can get your answers and solve this error- so that you can attend the webinar and use the features of the application Webex.
Webex by Cisco is an online web conferencing platform like Zoom that was founded in the year 1995. So, this name is much old and has made many users since then. As a lot of users use this platform daily basis, the probability of getting an error or bug also increases. Webex error 30000 is one of these errors, which is preventing the users to attend their selected webinars and conferences.
We are here to let you know about this error code including the verified steps to solve this error code. The important thing you should know is this error is affecting mostly iPad, iOS users, but, if you are facing this error on other devices, this can also happen.
Let's know about this error 30000 in detail.
What is WebEx Error Code 30000?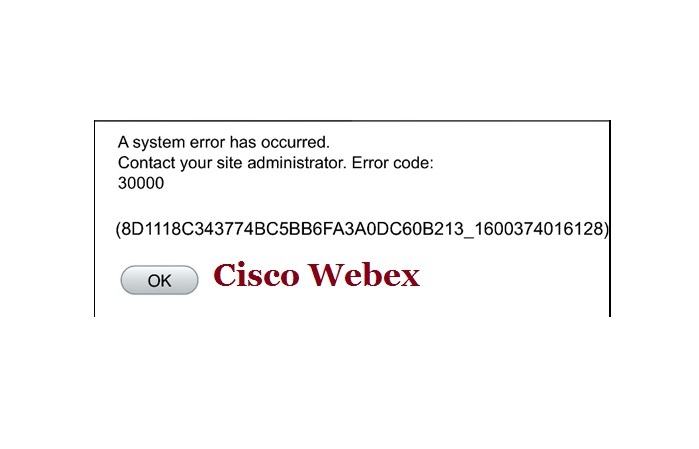 WebEx Error Code 30000 is a known issue by the Webex official team that may appear when your internet connection is poor or unstable. This error code usually affects users who have iOS 13.3 or a later version. 
When does this error code arise?
Users may face this error code when they are going to attend their webinars or trying to access their account information. Additionally, this error code may appear if the Webex software is not running properly or running slower than usual. 
Some other applications on your system may also hinder the Webex software, as a result, you may face the error code 30000. Anyway, luckily, there are some verified and tested solutions that are present, and you can try them to fix this issue- if this is bothering you too.
Fix: WebEx Error Code 30000
To fix this error code, here are some simple steps that you can accept as a solution and resolve this error from your screen.
Check Your Internet
The most probable thing that can cause this error is your Internet. Usually, this error code indicates the failure of the webinar hosting that may be caused due to the unstable internet. So check your internet and try again after power cycling your router.
Disable a third party application or extensions
A third-party application like an ad-blocker, antivirus software, and the firewall also may cause a hinder and prevent the application to perform normally. So the best way to verify this, you can disable them and try again. See if this helps and the error code has gone flown this time from your screen.
Check Webex Server Status
There is much possibility that a lot of users are hitting the application at the same time, as a result, the server is taking more time than usual to connect with. So, you should check if any server outage is running or not. 
You can visit the Webex official website link, or a third-party website named Downdetector may also help you to know the status of the server.
If there is a server issue, you have to keep patience for some time- until the problem is fixed from the Webex end.
Change Browser's Settings
Many users found this solution fruitful to them. To fix the Webex Error Code 30000, you should change some browser settings (Safari), and to do this, follow these steps: 
Open Settings on your iPad device as this error mostly affects iPad users.
From the left column, select the Safari icon.
Now, from the right column select Settings for Websites -> Request Desktop Website link.
Next, from the right column go to the Request Desktop Websites On -> All Websites.
Click on the Toggle button to ON.
Retry, and this time, the error should be fixed.
Final Thoughts
We have included the simple and tested solutions to fix the Error code 30000 on Webex. In case, if this error code still has an occurrence, you can contact the Webex Support team. They will help you so that you can fix the error code.