Stan error code A20 may stop your streaming, and to get your streaming back, you need to resolve this error. In this guide, we will walk you through the troubleshooting steps to eliminate this error and get your streaming back.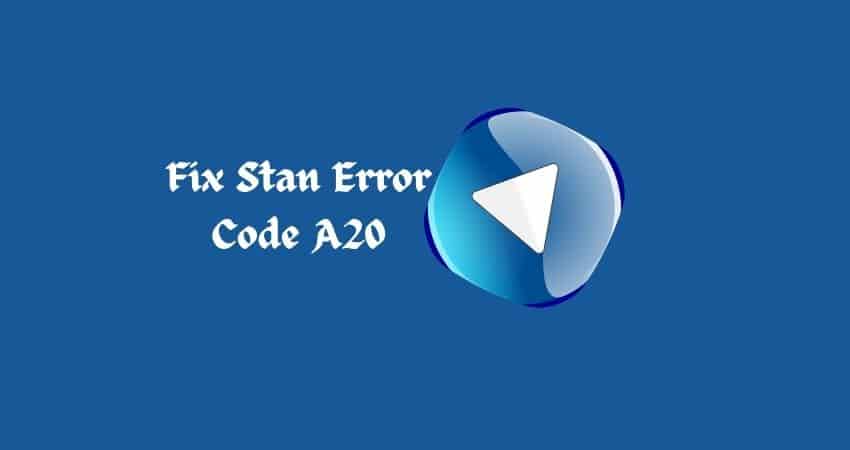 Stan is a good stop for streaming. It supports Smart TVs (Samsung, LG, Vizio, Sony, etc.), Gaming Consoles (PlayStation, Xbox, etc.,) Streaming Devices & Set Top Boxes, Phones & Tablets (Android, iOS), and Computers and Laptops.
However, error codes can hinder streaming, and the A20 is one of those errors. 
Let us know what this error code says and how to troubleshoot it.
What is Stan Error Code A20, and what does it say? 
Code A20 on Stan is a streaming error that says – "Sorry, we can't play the video. Please try again. Code: A20" Retry or Cancel. This error can appear due to many things, these include – a temporary system issue, slow/unstable internet, server-related issues, an issue with the streaming device, or an unknown issue on Stan's end.
The error can appear on A20 smart TVs (Samsung, LG, Vizio, Sony, etc.), gaming consoles (PlayStation, Xbox, etc., streaming devices and set-top boxes, phones and tablets (Android, iOS), or computers and laptops.
How to Fix Stan Error Code A20?
Although there is very little information available on this error, still you can resolve it by following some simple troubleshooting steps, these are –
Restart the Streaming Device and Relaunch Stan
Due to a temporary glitch, Stan may fail to establish a connection with your device and hence, you may face the error A20. Restarting/rebooting your device and relaunching Stan may help establish the connection and solve the error.
This is the first troubleshooting step, if it fails, try the next one!
Check Stan's Server Health
A new and unknown error may be the result of server issues with Stan. Server issues resolve over time as developers resolve them from the backend – you just have to wait until they finish their job.
Visit https://downdetector.com.au/status/stan/ to see if there is any outage with Stan's services.
Check of Update
Installing new updates is necessary to prevent compatibility issues. So, check if your device's software or Stan app needs to receive an update.
If there is any available update, install it and restart your device, then relaunch the Stan app.
Clear Stan App Cache
If you have been running Stan on your device for a long time and have not cleared its cache since then, you may want to consider clearing it, as the cache files may have become corrupted.
From the app settings, clear the Stan app cache and relaunch the app.
Reinstall Stan App
To resolve any glitches with the current Stan app, it is best to try uninstalling it and reinstalling it fresh.
Close the Stan app on your device.
Uninstall it and go to the Store to get it back on your device (from where all apps are to be installed).
Search for Stan and install it.
Once it's installed, relaunch it and see if the issue is resolved or not.
Contact Support
If the above troubleshooting fails then the error may be from Stan's end. Support should be aware of this. Contact them to explain the problem and get a solution.
Visit https://help.stan.com.au/hc/en-us to get in touch with Stan support.