There are a lot of things to like about playing Warhammer 40000: Darktide, but getting error codes during gameplay or launching is quite frustrating – error code 2014 is one of them.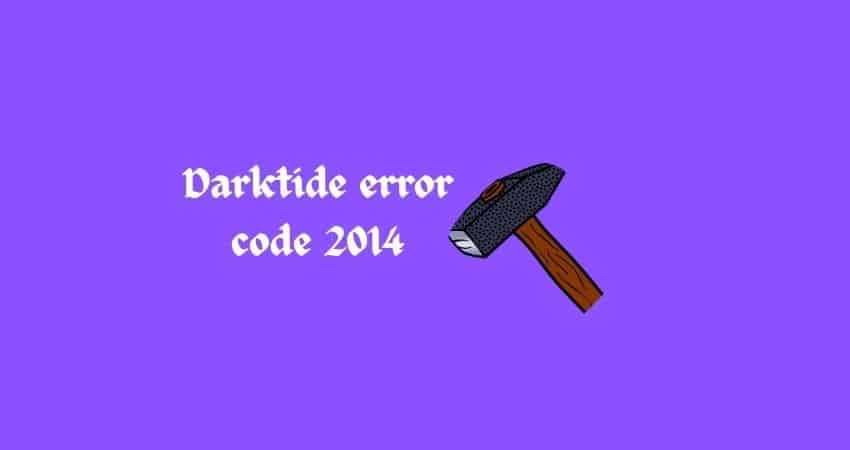 If this error is frustrating you too, don't worry, you are not alone – many players are going through the same path.
In this guide, we will find out if there is a solid solution officially available for this error or not. If not, what are the possible troubleshooting steps to take to get rid of it and get back to your gaming?
What is Darktide Error Code 2014?
This error troubles users when they try to launch a mission, and sometimes, it disconnects them from ongoing matches. The error says – "Disconnected from Server (Error code: 2014)."
This is a connection error that can be caused by many things like – an unstable internet, a temporary glitch, server-side issues, or some unknown or undefined problem on the part of the developers.
Is there any official solution available for Darktide error code 2014?
(At the time of writing) Officially, the error is still unresolved or you can say there is still no official solution to fix this error.
However, the developers have admitted that they were aware of this error and are still working on it so that they can come to players with a solid solution. 
Source- https://forums.fatsharkgames.com/t/error-code-2014/80837 
Hope it happens!
But until an official solution, what can you do to troubleshoot this error? Let's know!
How to troubleshoot Darktide error 2014?
Follow these steps to get rid of this error –
Close and Restart the Game
Whether you are playing the game on Xbox Series X/S, Xbox Cloud Gaming, or Microsoft Windows PC, this step may help to re-establish the connection to the game's servers.
Once the connection is re-established, the error may be resolved.
Check for Updates
The connection may be interrupted due to compatibility issues, which means, you need to check for updates and install them if any are available.
This helped users, so restart the game and check for any updates and if any updates are available, install them and see if the error is resolved or not.
Note – This is not just for the game, check and install updates for your device too.
Reinstall the Game
Reinstalling the game afresh has resolved the error for many users. So if the above steps failed then try this.
Uninstall the game from your device.
Restart your gaming device and reinstall the game
Relaunch the game and see if the error still occurs.
Wait for an Update or contact Support
If the error is still visible, it may be on the game's side. Wait for the new update as the developers have acknowledged the issue or you can contact support to get help.