Are you among those who are facing Samsung tv error code 137? Let's see why? And what could be the steps that you have to do and this error code will be resolved from your screen?
Many users face errors on their Samsung smart TVs. Samsung TV is a big name among TV manufacturers. Yet, a lot of users have trouble with issues and errors with their TVs.
💡 We have many articles and guides on Samsung TV errors. If you are willing to keep away from these errors, read our guides and tips.
Let's see first, why you are facing the error code 137.
Why I am Facing Samsung TV Error Code 137?
To get the answer to this question, see the below-mentioned causes that can be a culprit to face error code 137 on your TV screen.
You have an unstable internet that is causing issues connecting the app to the server.
The app that you are trying to reach has some glitches.
The app cache may get corrupted or haven't get cleared for a long time.
The App version that you are using is outdated or hasn't been updated for a long time.
The Samsung TV firmware has been outdated.
So, there could be many reasons. Let's check one by one and see what steps can help you.
How to fix Samsung TV Error Code 137?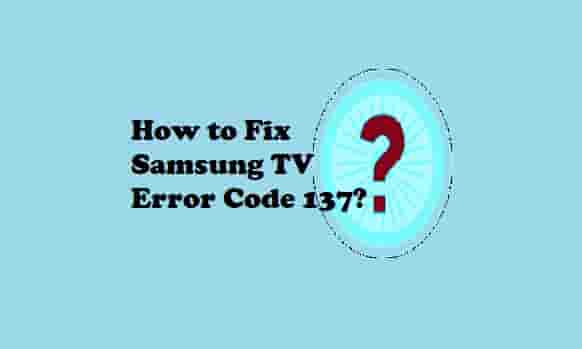 Troubleshoot Your Internet Connection
Ensure that when you are trying to connect your TV to the internet, the internet speed should be more than what is needed on mobile.
Note that a weak internet connection can cause many errors and hamper the basic functionality of your Samsung TV. 
Search on google for a speed test platform and run a test of your internet speed. You will get to know the upload as well as download speed on your connection form here.
If the speed is slow, contact your internet service provider. 
Other than this, you can do these simple tasks to get a boost in your internet signal that can solve the error instantly:
Unplug wires from your router and the power source.
Wait for 2 minutes, replug all the wires.
Apart from these, press the button situated at the back of your router, and hold it for 20 seconds at least. This will reset your internet connection, and after this, the app on your TV should launch fine.
Reinstall the Affected App
If the app that you are trying to launch has an issue or bug then, this might be the case that you are facing with the error code 137 for the launch.
TV or the internet connection will not be responsible then.
In such a case, reinstalling that app could be the best possible solution to prevent the error code 137 from your screen.
So, to fix error code 137 on Samsung TV, delete the app that is affected by this error and install that app again. 
Clear App Cache
The app cache helps for a faster launch. However, the cache becomes a problem when the cache gets corrupted and becomes counterproductive.
To fix error code 137 on your Samsung TV, clear the app (Generally Disney Plus app)cache that is affected by this error code and launch that app.
Update The App
The app (Disney plus, Hulu, or HBO Max in most cases) that you are trying to access, and getting error code 137, might need to get updated to its newest version.
When you don't update the app to the latest version, you prevent new developments. If you update an app to its latest version, the older cracks in the development are filled by the developers.
So, make sure that you regularly check for updates on the apps on your Samsung TV.
Update Your Samsung TV Firmware or Software
If a new firmware or software update has been launched and you skip installing it, the app installed on your Samsung TV may start acting abnormally. They can stop working or throw an error code. 
So, it is very important to update your Samsung TV software to its newest version. This keeps apps away from errors, and issues. 
Therefore, check if any update for your TV firmware is out or not. 
You can turn on auto-updates or at the very least, reminders for the updates on the TV system.
Here is how to update your Samsung TV software or firmware. Visit this Link.
https://www.samsung.com/in/support/tv-audio-video/how-to-update-samsung-tv-software/
Ending Texts…
I hope, now the app on your Samsung TV is error-free; means the error code 137 has been gone. 
If the error code 137 hasn't gone after applying the above methods, try a factory resetting your TV, this will fix the error code. But, the settings that you have made for your TV and apps will be reset, and get back to the starting point. This means you will lose all your settings after factory resetting your Samsung TV.
If the error is still appearing, you need to immediately get in touch with the Samsung support team.
Frequently Asked Questions
What does Samsung TV Error Code 137 mean?
The error code 137 on Samsung TV means "Name Resolution Failed." In straight and simple words- this error code means that the app you are trying to reach is not available for launch right at this time.
What is error code 137 on Samsung Smart TV?
Error code 137 on your Samsung TV is related to an issue with the apps installed on your TV. Mainly Hulu, Disney Plus, and HBO Max users are facing this error, but other apps may also be affected by this.