Have you recently faced Pandora error code 3008? Thinking about- what this error code means and why this is appearing? This simple stepped guide will please you by providing your answers.
Pandora is a platform that is loved by many people, basically- who are residents of the USA. This amazing platform comes with three tiers. Initially, you can create your account free but, if you need some other features, you can upgrade to its other plans which are Plus and Premium plans.
If you love to listening music and podcasts, this is the platform where you can easily get these. Additionally, you can create your customized playlist and can also share it with others. 
If you have some time, read our complete and dedicated comparison guide on- Pandora Plus vs. Premium.
Whatever the plan you are on, you can face Pandora error code 3008, and this error code can prevent you to access the launched podcasts and music. So this error code can prove as very frustrating especially when you are on fire and want to listen to music.
Let's know what this error code is and why users are facing this on tier screens.
What is Pandora error code 3008?
According to the question asked by the user on the Pandora community website, Pandora error code 3008 usually affects the newly launched podcasts and music. This error code does not allow you to access these newly launched podcasts, as it popups on your screen as a hindrance.
However, there is a lack of official solutions to this particular error, but we have managed some simple steps that can prove as assets for you. Let's see what these steps are.
Related: How to Fix Pandora error code 3002?
What steps can fix Pandora error code 3008?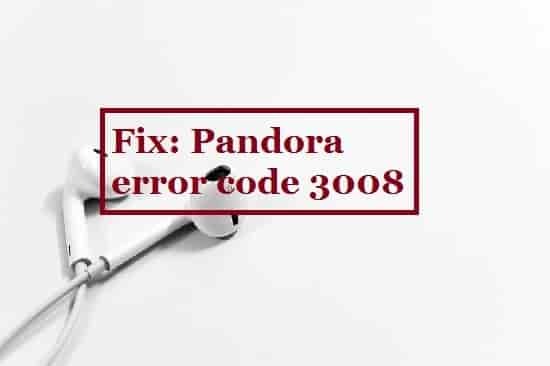 A few steps are there that can help you, and hopefully, the error 3008 will resolve after applying them.
Check if you have an unstable Internet
Mainly the errors appear when a user doesn't have stable and speedy internet. So, if you also lack stable internet or your internet is unstable, you may face Pandora error 3008. Now the question is how you can check whether your internet meets the minimum requirement or not?
To check this, first, you can perform a speed test of your present internet or the internet from which your device is connected. To do this, you can visit this website.
If you have more than 6 MBPS upload and download speed then, you are good to go. This means you don't have a problem with the internet speed. Now, you can move on to the next step.
Restart your Device
Sometimes, a fresh start of the application may fix many temporary issues. To provide a fresh start to the Pandora app, just restart your device, and see if the issue has been rectified or not.
Clear Cache Files
Cache files may be a culprit for getting Pandora error code 3008. To see if cache files are creating any problem or not, just clear the cache files from your device and you will get your answer.
Android Users: Go to the Settings -> click on Apps -> Select manage apps -> search for Pandora and click on the appearance -> now, click on clear data, and select clear cache.
Now, restart your device, start accessing the applications and see if there is any presence of the error code or has been streamlined.
Contact Support
Hopefully, you have fixed the error by applying the above steps but, if unfortunately, these steps fail to resolve the issue, you can connect with the support of Pandora. You can fill out the form or start a chat and tell them the exact issue. 
If any of the above-mentioned steps are helpful to you, we will feel glad to hear which one. Comment in the comment section and tell us which one helped you or you are still facing the issue.