Is MTG Arena not working? don't worry, sometimes it may happen but, the good thing is you can easily resolve this issue. 
Let's see why this is happening to you. This guide will tell you some easy steps to check where is the problem, and how you will resolve that problem. 
Quick Steps to Fix MTG Arena not working or crashing
If the MTG Arena not working or crashing then, first of all, check the system requirements for this game and then check for your operating system updates and the game version as well. An outdated graphic driver and background programs may also cause an issue. If after performing these steps still, the game is not working then, uninstalling and reinstalling may help.
Additional Facts
MTG Arena (magic: The Gathering Arena) is a free game. Users who love to play a digital collectible card game will love to play this game. However, like other games, this has also some system requirements and other things that users must meet before trying to play this game. When these requirements do not fulfill, the game may stop working or loading. So, let's see in detail what these are.
How to Fix MTG Arena not working?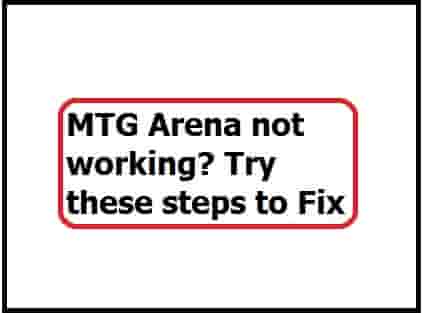 We have already mentioned above a quick view of causes that can stop the game to perform or load on your system. Now, let's see it in detail.
Check the System Requirements
System configuration according to the game requirements always helps to run a game smoothly. So, if you are facing any issue in loading the game MTGA or it is being crashed then, you should first and foremost check the system requirements to play this game. 
See- System Requirements to play MTG Arena or MTGA
Relaunch The Game
Sometimes, if your system meets all the requirements, yet the issue does happen. In this situation, sometimes, just relaunching may help to resolve the problem.
Internet
Internet may also cause a loading issue of the game. So make sure your internet is good and has the speed that is required to run the game smoothly. However, if the issue is with your speed, you can disconnect other devices and then try again.
Check for the updates
An outdated version of your OS, as well as the game, may cause a crashing issue. So make sure you have an updated version of both. If not, then update and check again. Additionally, you should also update your graphic driver.
Read: How to download Windows update manually
Clean Boot
Perform a clean boot and try to launch the game without other software running. If this helps then, open the one-by-one program until you find the conflicting program.
Uninstall and Reinstall
If nothing helps, uninstall and reinstall may do. Just uninstall the game MTGA, and reinstall it again from its official site.
Frequently Asked Questions
MTG Arena black screen: What to Do?
If you are facing a black screen when you try to open MTG Arena, this is an indication that you have a poor or unstable internet connection or your system configuration is not meeting the standard requirements to play MTG Arena. So, to fix this issue, check the internet connection and system requirements.
MTG Arena not working after update: How to Fix?
Follow these steps to fix this issue:
Check system requirements and see if it is meeting the minimum requirements to play MTG Arena or not.
Update your graphic card driver.
MTG Arena Unable to Join Event: How to Fix?
MTG Arena 'Unable to Join Event' issue is related to the server problem. This error message usually appears when there is an issue with the servers like if they are under maintenance or down for some time. Wait until the server comes up and then, try to play MTG Arena.