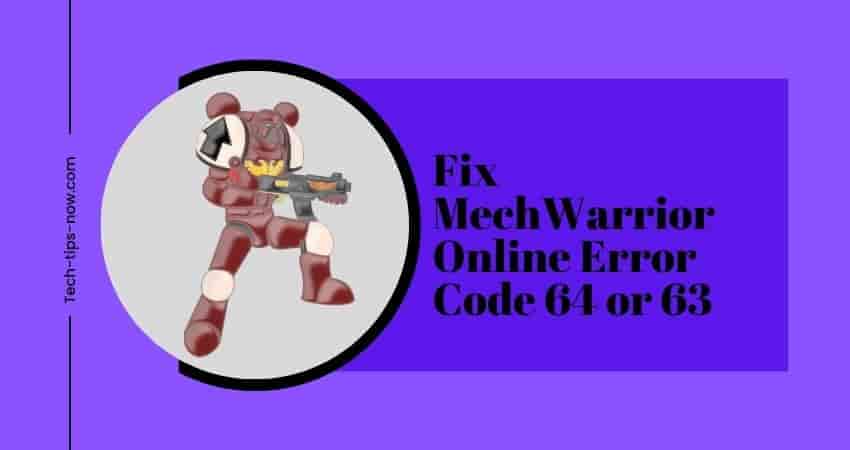 MechWarrior Online (MWO) error code 64 or 63 at a glance:

Platform (game): MechWarrior Online (MWO)
Error Code: 64 or 63
Impact of the error: Players are unable to log in or play the game.
Causes: Connection interruption, server outage, or unplanned maintenance.
Free vehicle simulation video game lovers will love playing MechWarrior Online (MWO). This is a very popular PC game having multiplayer mode. However, users are facing login errors and error codes 64 and 63 are just one of them.
In this guide, we will explain what this error code is and how to troubleshoot it to sign in and play the game.
What is MechWarrior Online Error Codes 64 or 63?
There are many login errors in MechWarrior Online, and 64 or 63 are some of them that users are facing when trying to sign in to the game. A temporary glitch or server issue may be causing this error.
However, this error can also appear due to authentication failure which may be caused by unstable internet and DNS issues.
How to Troubleshoot MechWarrior Online Error Code 64 or 63?
Officially, there are no steps to resolve this error, however, you can try some simple steps, which include –
Restart The Complete Setup and Relaunch the Game
Login error 64 or 63 may be the result of a temporary glitch, restarting your entire setup (your gaming device, your Internet devices, and other peripherals) may help resolve it. 
Once you give your setup a fresh start, it gets a fresh chance to establish a new connection to the game server and hence has the advantage of resolving login errors like 64.
Wait and try again – if there is a server outage
Due to unplanned server maintenance or heavy load on the game server, you may fail to log into your account. 
The game server must be running to log in to your account and play the game. Therefore, if you are unable to log in and are receiving errors 63 or 64, you should verify the MWO server's health.
Visit https://mwomercs.com/status to verify if the servers are running or under maintenance. In case of maintenance, you should wait until the developers resolve the issue.
Contact MWO Support
If restarting all setups (your device, internet router, and Steam) doesn't help then the problem may be with MWO. 
Either it can be a server-related problem or something undefined. You should contact MWO support.
Visit https://mwomercs.com/support to get in touch with the MWO team.