Do you have an issue with the Libby App? Is the Libby app not working? Or do you have any other problems related to this application like- it keeps freezing or crashing or showing a black/white screen? Now, these issues will not bother you, as this guide has plenty of simple methods that will resolve these issues in minutes.
Libby App: An Overview
Libby app offers millions of eBooks and audiobooks for users who love to enjoy reading eBooks and listening to audiobooks. The best thing about this app is all these contents are free of cost, which means you don't need to pay any amount to read the eBooks and audiobooks using the Libby app. 
So, if you have a question- is Libby free? Then, the answer is- Yes, it is free. You can install it for free and borrow all the digital content from your library with a valid library card.
Fix: "Libby App Not Working."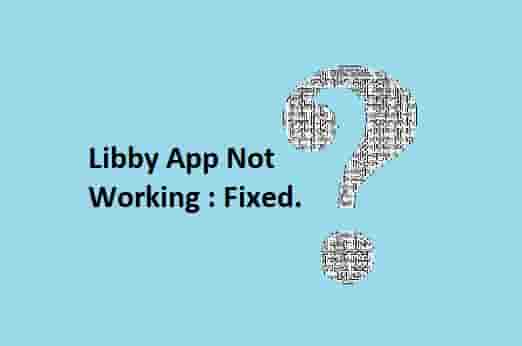 Restart Your Device
To fix issues with the Libby app, the first and easiest task is to restart your device. Restarting your device solves many problems if they are just due to a temporary glitch.
So, close the Libby app completely, and then, press the power button and restart your device and see if the app is working fine or not.
Update Libby App
One of the most possible causes is an outdated version of the application, which may cause an issue with the Libby app. So, if the Libby app is not working, update the app as it might be in its older version.
After installing the latest update for the Libby app, the app will start working fine.
Update the OS Version
If the Libby app is not working on your iPhone or iPad running iOS 9, then you will need to update your device OS version to iOS 10 or higher. 
As of an announcement made by Libby on October 2021, Libby is no longer supported on iPhones and iPads running iOS 9 due to the changes made by Libby's web certificate provider. You can learn more about these changes here. 
To update your iPhone or iPad, read this official guide.
Clear App Cache
Most of the time, corrupted app caches may cause issues with the Libby app. Clearing these corrupted caches will fix the problem with the Libby app. To clear the Libby app cache,
 iPhone users, Go to iPhone settings -> General -> Click on Libby App -> Click on iPhone Storage -> Click on Offload App button -> install Libby app again. 
Android users: Go to settings -> Manage Apps ->  Search for Libby App and click on that -> Tap on clear cache, and confirm your choice. 
Now, this way Libby App cache and data will be cleared and the issue will also be fixed.
Check Server Status
Ensure that any server outage is not happening with the Libby app. Because, if any server outage happens, the Libby app may stop working till the server comes up and running.
Stay connected with the Libby help page or their official social channels so that you can get the latest update with the Libby app server or maintenance work.
Logout And Login Again
If the Libby app has stopped working on your device, just go to your profile in the app and click on the sign-out option. 
After signing out, log in again using your credentials and the app will start working fine. If it is still not working, try out the next move.
Uninstall and Reinstall Libby App
If the Libby app is not working, close the app and clear its cache. After that, delete the app from your device and then go to the play store or app store and reinstall it.
Log in to your account and launch the app again, this will start working.
Final Words
Sometimes, login to your Libby account not working, this could happen due to an issue with your library card.
Your library card could be expired, blocked, fined, etc. So, if you are facing a sign-in issue with the Libby app, check these things and try again.
We hope, this guide has helped your and the Libby app has started working again.