Well, here we are going to discuss the Roblox Error Code 522 as many users are getting this error code. In this tutorial, you will learn, what this error code indicates, and how you will fix it if you are getting this on your screen. Roblox allows users to join the other users to make the game interesting and play together, but sometimes users fail to join the others. 
If you also failing to join other players and getting this error code then, here is a complete guide to resolve this error code.
What Roblox Error Code 522 denotes?
Error Code 522 on Roblox indicates that the user is trying to join a player in the game, who has left the game. It means, if you are getting this error code then, most probably the user to which you wish to join has left the game. 
Roblox provides many games with multiplayer options that make the game more interesting and players enjoy the playing.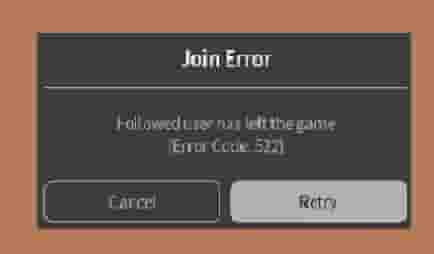 How to Fix Roblox Error Code 522
If you are willing to play a multiplayer game and getting the above-discussed error code which means the player you are willing to join has been left the game prior. In this situation, to fix this error code you should invite that user or you can join another one.
How to invite players or How to Join a Game in Roblox
Reinvite the player is the best way to get rid of Roblox Error Code 522. Here is how you can invite or join other players in a game on Roblox:
Search users by their usernames and open their profile pages.
If the user is currently in the game with the following option then, follow that user and you will see a Join Game option.
Now, click on the Join Game option, and the user will join with you, or you can say you will join.
Note: If the users didn't allow others to follow then, you will not see the Join Game option, so make sure you are trying to join only that users that have this option enabled. There is another thing you should keep in your mind that you can only join a game if you have the necessary permission to do that.
Related Guide:

How to Get Unbanned From Roblox

Roblox error code 901

Roblox Error Code 277