Microsoft Outlook is one of the widely used personalized email platforms- which is free to use by all users. A user can create and erase a folder in outlook so that he/she can organize the emails and other things in outlook. If you are thinking about- "how to create a folder in Outlook" to organize your things then, this is the guide where you can get your answer easily. The good thing is you can also erase the folder that you have created in past.
This guide will tell you- how to create a folder in Outlook for Desktop App, Android, and Web. So, this is the time to select one method according to your need.
Mailing is our daily need, and some people get thousands of emails on daily basis. Personalizing and organizing these emails is a big task for everyone. But, Outlook provides some features that make these tasks easy for people. Today, we are going to discuss one of such features. So, be with this amazing guide so that you can also avail the benefit of this.
How to Create a New Folder on Outlook for Android devices
Android devices have occupied a huge range of markets, even you can find it very common the people to have an android device with them. As this is a huge range, the problem to create a folder on outlook is also huge. Let's see how to create a new folder on your Android device for your outlook emails.
Here are the steps:
Go to Google Play and search for Outlook App.
Download and install the Outlook application on your android device.
After finishing the setup, long press on any email followed by the three dots present on the top right.
You will see a menu with different options such as Move to folder, move to other, report junk, and so on.
Click on the Move to Folder option which is the very first on the list.
Now, don't select a folder that is existed already, instead of doing this, click on the folder with the Plus icon, which is situated in the top right corner of your screen.
Next, name your folder so that you can easily remember it, and then, click on Create and Move option.
Note: If you looking for the answer to the question- How to erase an Outlook folder from your android device? Then, unfortunately, you can't erase a folder from your android device because Outlook doesn't allow doing this yet.
How to Create and Erase a Folder for Outlook – For Desktop App and Web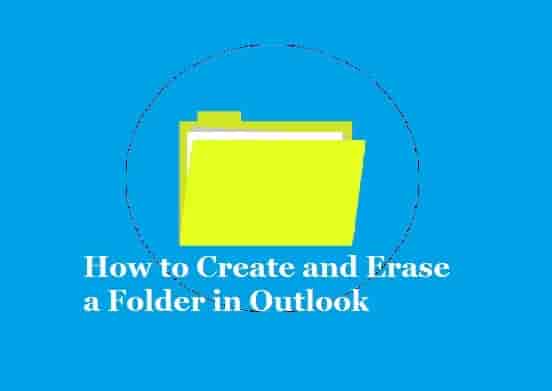 Outlook desktop app allows users to create a new folder and erase an older one. So, if you have opened the Outlook desktop application, here are the steps to perform these tasks:
Look at the bottom left of your screen and click on the three dots present here.
Now, select the Folders option and you will see the already existing folder will appear.
Next, right-click on any of these folders and select the New folder option.
Now, mane the folder, and once you have done it, your new folder will also appear with the rest of the folders.
To delete or erase a folder, here is the path: 
Follow the first and second steps of the above, and instead of selecting the new folder option, select the delete option.
For Web
For the web, this is very easy to create a new folder. Here is the process:
Click on Inbox and scroll down, you will see the option- New folder.
Click on the option and type the name of the folder and press the OK button.
This newly created folder will appear automatically then. That's it.
Conclusion
Whatever the device on which you are accessing Outlook whether it is Desktop, Android, or web browser, creating a New folder is an easy task. You do not create only a new folder but also get many options there to perform. Tell us on which device you use Outlook and don't forget to share this guide with your friends or colleagues. You can also share your thoughts in the comment box. 
Related Articles:
How to fix Outlook Error 0x8004210A
Frequently Asked Questions
Can you delete a folder in Outlook?
Yes, you can delete a folder in Outlook mail, you just have to follow the steps mentioned in this guide.
How do I edit folders in Outlook?
To rename a folder in Outlook for Mac, follow these steps:
In the left navigation pane, right-click on the folder, and then click on the Rename Folder option.
Type the name that you want and press RETURN.