Users are facing issues in login into their Disney plus account. They are getting error code 32 on Disney Plus while they try to access the platform. 
If you are one of them and unable to reach out to the Disney Plus content due to this error code, read this guide.
What does Disney Plus Error Code 32 say?
Users are unable to sign in to their Disney Plus account and the error code that they are facing says "We're having trouble connecting to your account. Please sign out, and sign in again. If the problem persists, visit the Disney+ Help Center (Error Code 32)."
One thing is clear error 32 is related to the profile issues or login issues.
How to fix Disney Plus Error Code 32?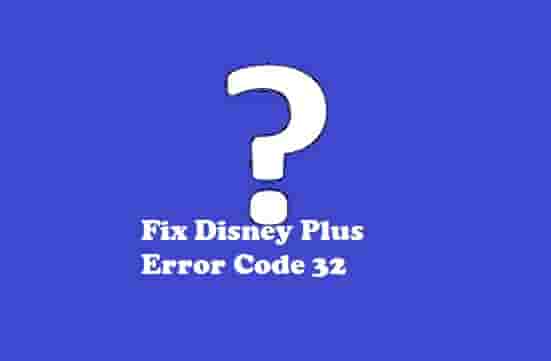 Cross Check Your Login Information
You may have entered the wrong login credentials, such as username or password for your account. 
So, crosscheck the details that you have entered and try to enter your login details again, and input the credentials carefully to verify if they are correct. 
See if the numbers, capitalization, and special characters you are using are correct.
Move On to A Different Device
If you tried signing on to Disney Plus via the mobile app and faced error code 32, you could switch to your Smart TV app or website. 
At the same time, you can also use a different browser if you are having problems with your current one, you can go with Chrome- in case, Firefox is causing issues, and Vice versa.
Disable VPN or Proxy Server
One of the most possible reasons for error code 32 is interference from your VPN or proxy server. If you use a VPN or Proxy server to stream Disney Plus on your device, you can temporarily turn it off and retry signing in to your account. 
If you must need to use a VPN for whatever purposes you may have, use only those who support Disney Plus without any issues.
Switch To A Different Network
As another cause, your network connection could be considered. To verify it, switch to another internet network. If you use your WiFi Internet network connection, use your mobile data.
And if you use your Mobile data, try to use the Wi-Fi.
Clear App Cache
Generally, when there is an issue with the Disney Plus app, clearing the app cache resolves the issue. So, to fix the issue with the Disney Plus app, clear the app cache.
For Android users, access Settings >> search for Disney Plus app >> click on that and tap on clear cache. The Disney Plus app cache will be cleared and the issue will be resolved.
For iPhone users, Go to iPhone settings >> Go to General >> search for Disney Plus App and then click on that >> Tap on iPhone Storage >>  Next, click on Offload App button >> Again Reinstall the Disney Plus app.
Update Disney Plus App
An outdated Disney Plus app could be a result of getting error 32. So, don't ignore it and update the app so that you can away from the error code and could enjoy the content available on the platform without any issues.
Uninstall and Reinstall Disney Plus
Nothing could be as easy as deleting the Disney plus app and reinstalling it. This may help- if nothing doesn't.
So, to fix issues with the Disney Plus app (error code 32), delete the app from your device and reinstall it. This will install the latest version of the Disney plus app and the problem will be solved.
Check Server Status
Servers issues couldn't be ignored. If there are a lot of users unable to sign in to their account at the same time as you are, then this could be a sign of a service outage. The servers may go down due to heavy traffic, or developers may shut down the servers temporarily for any maintenance work.
In this situation, you can only wait until then Disney plus developers fix the issue. 
You can check the Disney Plus server status here.
Ending Lines…
Disney Plus is one of the best online streaming platforms but, this has many issues and errors. To keep you away from Disney plus errors, we have provided many guides, that you can read by clicking on this link. 
We hope, now the error code 32 is not appearing on your screen.
If the error code hasn't gone yet and you are struggling, contacting Disney plus support could be the best option for you.