The News: Warhammer 40000: Darktide is another first-person action video game launched by Fatshark for gamers in the expanded gaming universe. Starting October 4, 2023, players can also get the game on Xbox Series X/S, initially only available to Microsoft Windows users. Although the game has expanded to other platforms to reach more players, errors and bugs have also expanded – error code 3013 is one of those errors.
Here, we will explain what this error code is and why it appears to users, further, we will mention some troubleshooting steps that you can try to get rid of this error.
What is Darktide error code 3013, and what causes it?
Darktide error code 3013 is mainly caused by a server-side issue. At the same time, there are also several other causes that can help trigger it, including – an unstable internet, a temporary glitch, corrupted game files, or some Unknown or undefined problem.
The error says – "failed_found_no_lobby / Error Code: 3013" or "Failed joining server (Error code: 3013)"
Is there any official solution? 
(At the time of writing) Officially, there are no concrete remedies available for this error. However, since many users have reported this error to the official team, they have acknowledged it.
Hopefully, a new update will be launched to fix this error. Keep an eye out for updates and install them as soon as they launch.
How to Troubleshoot Darktide Error Code 3013?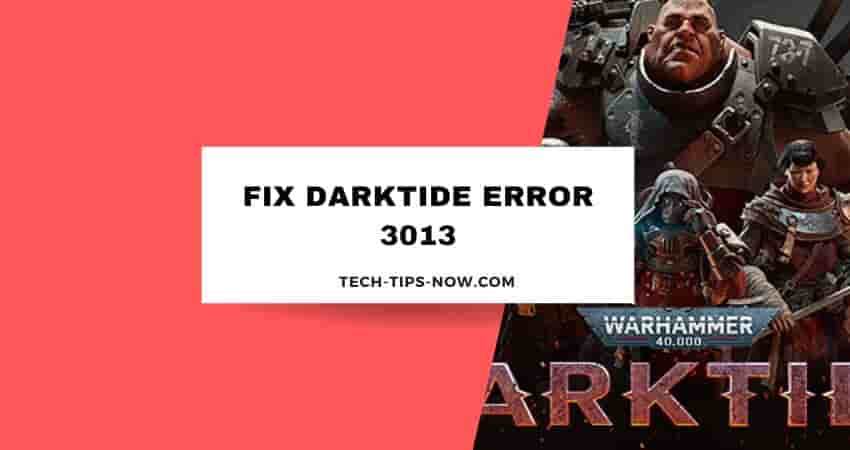 Follow these steps to get rid of this error –
Close and Restart the Game from a Fresh
Whether you are playing the game on Xbox Series X/S, Xbox Cloud Gaming, or Microsoft Windows PC, closing the game and restarting it fresh may help re-establish the connection to the game's servers.
And since the error appears due to connection instability, once the connection is properly reestablished, the error can be resolved.
Check for Updates
Updates cannot be ignored as they may cause compatibility issues which may further cause connection interruptions, causing error code 3013 to appear.
Consider these steps:
Restart the game and check for any updates
If any updates are available, install them and see if the error is resolved or not.
Note – Check and install updates for your device's software as well.
Verify the Game Files
Verifying the integrity of the game file helped many players to resolve this error code. Try verifying the game files by these steps:
Launch Steam and access the Game Library.
Select DarkTide and right-click on it.
Choose Properties and then "Local Files."
Next, select "Verify integrity of game files."
Wait to complete the verification process, and once it finishes, see if the error is resolved or not.
Uninstall and Install the Game Again
For many users, uninstalling and reinstalling the game has worked. So if the above steps haven't done the trick, try reinstalling the game. Follow these steps:
Uninstall Darktide from your device.
Restart your gaming device and install the game again.
Relaunch it and see if the error still occurs.
Wait for an Update or contact Support
If the error is still visible, it could be caused by an unknown issue that the developers' team is working to identify and resolve.
Wait for the new update as the developers have acknowledged the error or you can contact support to get help or the latest progress.
Visit https://twitter.com/DarktideComms to get the new updates related to the error or any other unknown issues.