Crunchyroll is one of the best platforms to stream or consume anime content. But unfortunately, users regularly face some types of problems and errors on the platform. Error code Med-4003 is just one of them.
In this guide, we'll explain what this error means, and how to fix it.
Crunchyroll Error Code Med-4003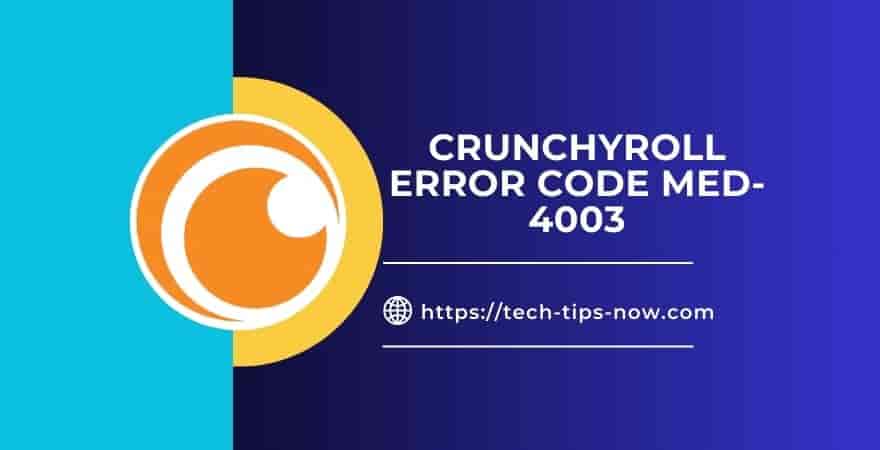 It is frustrating to receive error codes when trying to entertain yourself by streaming your favorite anime on Crunchyroll. Error med-4003 is one such error that users encounter commonly. 
Let's know more about this error!
Read– List of Crunchyroll Error Codes and their Solutions
What is Crunchyroll Error Code Med-4003?
Crunchyroll error code Med-4003 indicates a problem connecting your device to the Crunchyroll servers or an authentication issue. This error appears when something is preventing Crunchyroll from verifying your access rights.
This error is very common, and users often see it when they try to access their favorite anime titles.
Causes of Crunchyroll Error Code Med-4003
These can be causes for the error code med-4003:
Authentication Problem: Authentication Problem: This usually occurs when Crunchyroll servers are overloaded or experience heavy traffic. Sometimes, due to some maintenance work, the server may stop for some time, this may also cause authentication issues.
Poor/unstable/slow internet: This will lead to network failure which may lead to error code med-4003. 
Older version of Crunchyroll app or browser: Older versions may cause compatibility issues and hence you may get the error.
Problems with Your Crunchyroll Account: Problems with your Crunchyroll account, such as account restrictions or bans, can trigger this error.
How to Fix Crunchyroll Error Code Med-4003?
Follow these troubleshooting methods to resolve the error med-4003:
Verify Crunchyroll's Server Health
To stream any anime on the platform, it is very important that the server is up and working. If the server is experiencing any overload, heavy traffic, or maintenance activities, your device will fail to connect to it. As a result, you may get an error. 
So before applying any other troubleshooting method, it is suggested to check if the Crunchyroll server is up and working smoothly.
Visit https://downdetector.com/status/crunchyroll/  to see the status.
Troubleshoot Your Internet-Related Issues
Due to poor/unstable/slow internet, the platform may fail to connect to its server and hence, you may face the error Med-4003.
So do a speed test to make sure you have a stable and high-speed internet connection. Consider restarting your Internet device (router/modem). Also, perform a power cycle – unplug the device (Router/Modem) from all connected sources and leave it on for 5 minutes, then plug it back in and turn it on.
Clear Your Browser's Cache & Cookies Data
To delete corrupted cache & cookies data stored on your Chrome browser, click on the three vertical dots and select "Clear browsing data…" by hovering the mouse on the "More tools" option. Now, under the "Advanced" section, select the time range "All time" and tick the boxes next to the options- "Cookies and other site data" and "Cached images and files". Click on "Clear Data."
Update Your Browser (Chrome)
An outdated browser version may lead to a compatibility issue. Hence make sure you are using an updated version of your Chrome browser.
Visit chrome://settings/
Click on "About Chrome."
If the browser gets a new launch it will start updating to the latest version.
Update or Reinstall Crunchyroll
Like an older browser version, an older version of the Crunchyroll app can also cause compatibility issues. Therefore it is important to update the Crunchyroll app also.
Uninstalling and reinstalling will automatically install the latest version of the app. 
Wrapping Up
This article is all about the Crunchyroll error code Med-4003. This error is very common and generally appears when users try to play their selected anime. 
Authentication issues, network failure, or outdated browser and app versions can be considered possible causes of this error. 
Luckily, troubleshooting this error is easy; you will find all the methods in this guide. 
But if nothing helps, you should connect with the Crunchyroll support for help.