Zoom has its name and fame among all the video conferencing applications present these days. As hundreds and thousands of users daily use this application and face errors, this is very frustrating sometimes. Recently, many users have faced Zoom Error Code 3160, especially when they are using Zoom for ChromeOS.
Zoom has admitted this error code and has also provided a guide on this- for that, the link is here.
Also, this guide will provide the simple steps that will help you to fix this issue or error from your screen and start your meeting seemly. But, before going on to the solution, let's know what this error code indicates?
What does Zoom Error Code 3160 say?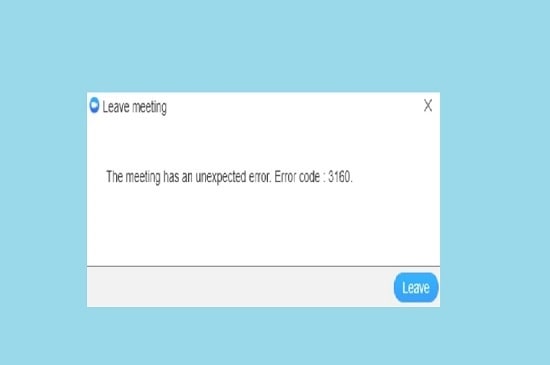 As per Zoom's official announcement, Zoom Error Code 3160 indicates that the user is attempting to sign in to the Zoom account using Zoom for ChromeOS. This error code appears because Google had announced that as of June 2022, the Zoom application for ChromeOS will no longer be supported. That's why users are getting the error 3160 because they are using Zoom for the ChromeOS application.
Now, you know the issue and the causes why this appears, so now, let's talk about what steps you will have to perform to resolve this error so that you can start your meeting again without getting this error.
How to Fix Zoom Error Code 3160?
Since the Zoom application for ChromeOS is no longer supported so, the error code 3160 can be easily fixed by using the Zoom for Chrome PWA instead of Zoom for ChromeOS. Users have stated that they are getting the error when they are going to sign in to the zoom for ChromeOS using their login credential so, use Chrome PWA and see if this helps or not. However, this is mentioned as an official solution to this error too.
Just install Zoom For Chrome PWA, start signing in using your login details, and start meeting on the application.
You can visit this guide too and get your answer. You can also visit this link if you want to know the configuration and settings of Zoom for Chrome PWA.
Some other Simple Steps that you can perform besides this:
Make sure the other programs that use the camera are closed at the time when you want to use the Zoom Application.
Restart your device and check the status of the Error code 3160.
Uninstall and Reinstall the Zoom Application.
Final Thoughts
We hope, the error code 3160 has been resolved now from your screen. If you have any queries, comment us with that. If the error still appears, contact Zoom support or you can ask questions on Zoom's official community forum.