Terrarium TV is not an OTT platform such as Netflix, Amazon Prime, or Disney Plus, but it contains a library of TV shows and movies to watch. It provides an apk file for Android users to avail of its services. Sometimes, users may face problems using this platform. Many users face that the Terrarium TV is not working for them.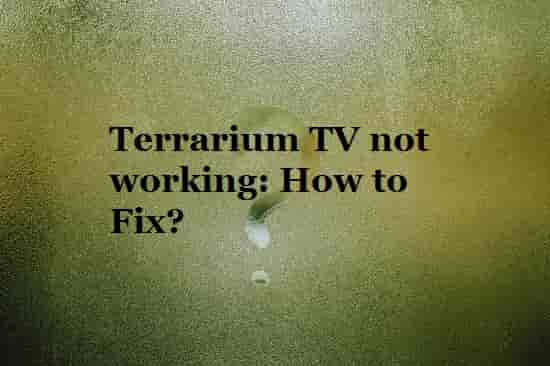 In this guide, we will discuss what are the causes when the Terrarium TV stops working and the solutions that could resolve this issue from your side.
About Terrarium TV?
Terrarium TV only contains links to TV shows and movies, which means this does not upload any content on its server. All links available on this platform are fetched from secure sources and in HD quality. In other words, the application works as a mediator between the content-providing platform and the user. This does not host or upload any media, videos, or TV shows on its server.
Users Concern: Many users have concerns that the platform is not working on their end, so first of all, let's see which causes may cause this issue, and then will move to the solutions.
Causes when Terrarium TV may Stop working
Terrarium TV may stop working due to a lot of things. Here are some very common causes:
Poor/Slow Internet connection: If you have slow internet, connectivity to the Terrarium TV servers may pause, and hence you may face the "Terrarium TV Not Working" issue.
Server issue: Due to heavy traffic on the platform, Terrarium TV servers may be down and you may fail to access the platform.
An issue with the media player: Your media player
Issue with your location settings.
There can be any of these causes present on your end that may stop the application from performing normally.
Terrarium TV not working: How to Fix?
As you know the possible causes that may affect the platform and can cause issues in performing the application properly, there can be several solutions to this issue. You just have to complete one by one and check that after performing which step the platform starts working as usual.
Steps to fix Terrarium TV not working:
Check your internet connection 
Your internet connection should be proper when you go to use the platform. As you know, Terrarium uses HD links that need a minimum of 10 Mbps speed to stream, so make sure you have this speed.
Use Recommended Servers
Terrarium recommends using AmazonDrive, GoogleVideo, and DropBox-FastServer. These servers help to fetch the content faster as the Terrarium does not upload any content on its server, it fetches your requested content from the servers stationed in various locations.
Use a Supported Media Player
The application does not use a media player so, you have to install a media player such as MX Player, Yes Player, or anything else to watch the content.
Check your Location
Check whether you are in a restricted location where the service of the application is not available and that's why the application is not working from your end. You can use a VPN if you are in such locations where the application has restricted its services.
Server Issue with the Content-Providing Platform
Maybe the servers of the platform from which you want to fetch the content are down or having any other issues. In this case, you can check the server status of that platform and wait until it comes up.
Clear Cache and Cookies Data
Just clear the cache and cookies data of the application and see if this is fruitful or not. Sometimes, corrupted cache files and data are stored on your device which may stop functioning the application properly. 
Note: If you are facing Subtitles Issues such as Subtitles are not available, the Media player is not supporting the subtitles, or the subtitles are out of sync, you can fix these issues by selecting a media player that supports subtitles.
Final Words
Various reasons can be there if the Terrarium TV is not working so the solutions could also be several to fix this issue. We hope we have included all possible causes and solutions in this guide. If you found any other cause or solution, don't feel shy, share your thoughts in the comment section.