Sometimes, there are many features are embedded in the devices that we use on daily basis but, we don't know about those features. This guide has included a feature that will be benefited you if you are an Apple TV and Apple Watch user. Yes, this guide has included- How To Authorize Apple TV Purchases Using Apple Watch? 
So, as of now, if you didn't know this, now this is the time. Now, you will know how you can do it easily and make your purchase experience better with Apple Watch. So, let's know which steps would you follow to do this.
How To Authorize Apple TV Purchases Using Apple Watch?
This is the era of digital things, so why not the watches become digitized. Based on this line, Apple launched the digital watch that has many features in it. Now, you can know who is calling you or you can make a call using a digital watch especially when you are driving or doing some other activity in which you can't pick up the phone from your pocket. 
You can check the weather, air quality, and many more things using your smartwatch. As its name pronounces, a digital or smartwatch can perform many tasks that you had to do by spending much time.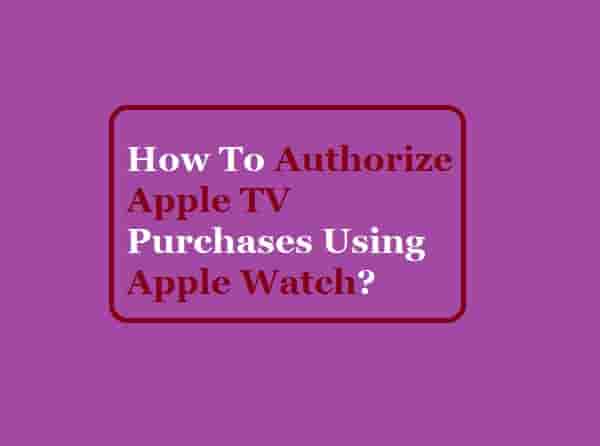 Apple TV is a device on which you can stream many movies and shows and also can do a purchase. But, do you know you can Authorize Apple TV Purchases Using Your Apple Watch? Yes, you can do this easily. Here are the steps:
On your Apple TV click on the Settings app.
Now, select Users & Accounts.
If you have multiple accounts, select the account that you are using.
Next, click on the Required Password option.
Select Purchases.
Note that the Always or After 15 Minutes option is enabled.
Now, when you click on the buy button on your Apple TV, you will get an authorization notification on your Apple Watch (iPhone or iPad too), you just have to double click of sid-button on your watch.
Even, you don't need to click on the 'Confirm with Apple Device' button as the prompt will automatically show when you click on the buy button.
Note: If you don't have your Apple Watch on your wrist, or you don't have your iPhone or iPad near you, you can swipe down and select "Confirm with Password" on your Apple TV to enter it manually.
Things that you must do before going to Authorize Apple TV Purchases Using Your Apple Watch
Users must do this thing before going to authorize their Apple TV purchases using their Apple Watch. Before going to authorize, make sure that your Apple Watch and the Apple TV have the latest update: which means they are up-to-date or not. If not then, here are the steps that you should perform.
For Apple Watch
Note: Connect your Apple Watch with the charger before going to update. Now, follow these steps: 
Open the Watch app and click on General.
Now, click on Software Updates.
Next, follow the on-screen instructions.
For Apple TV
Go to the Apple TV and open the Settings App.
Select System by scrolling down.
Now, click on Software updates.
Next, follow the instructions and install the latest update.
Final Thoughts
We hope this guide has proven helpful to you if you were looking for the steps that will let you authorize your Apple TV purchase using your Apple Watch. If you have any doubts or queries, feel free to ask in the comment box.