Don't worry if SiriusXM App Not Working on your device, as procedures are always available to get rid of such type of issue. You just have to find them, and we have made this very easy, as in this article, we are going to explain such types of procedures. 
SiriusXM is a broadcasting company that offers online radio services in the United State. This company had founded in 2008. This company is broadcasting radio since its time of establishment and has made a good number of users, that's the reason this has become one of the popular radio companies. But, what to do if SiriusXM App Not Working? 
Fix: SiriusXM App Not Working
Sometimes, the application Sirius XM may not work properly, in this case, first of all, you don't need to get panic. Some simple actions you have to perform, and hopefully, the application starts working as usual. What these actions are? Let's see it in detail.
Check Server Issue
Visit this link- https://downdetector.com/status/siriusxm/ to check whether the issue is from the server end or not. If many users are facing the same issue then it is confirmed that the issue is from the Server end. 
What do you have to do next? You have to wait for a while, and once the issue is resolved from the server end, you can proceed to enjoy the features of the application. 
If the users are facing different-different issues that, might be other reasons for the problem. This time what you need to do is to follow the next action.
Clear the Application Cache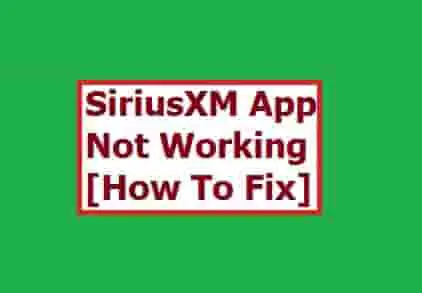 Application cache can be corrupt and cause an issue in functioning the application properly, so clearing them can start the SiriusXM app working. 
Restart your Device
Turn off your device, and turn it On again and see if the issue is resolved or not. Sometimes, this may help as many users just done a simple restart of their devices and found it helpful.
Uninstall and Reinstall
If the above action doesn't work then, you are supposed to uninstall the application and reinstall a fresh copy. Hopefully, this time the issue has been fixed. If, no then, contact Sirius XM customer care, or you can also do a call on 18666355027. 
Conclusion
Users usually face issues with the SiriusXM App when they try to access the application. Users may fix this issue by clearing the application cache, checking the server issue or service outage, and if nothing helps then, uninstalling and re-installing the application might fix the issue.
Frequently Asked Questions
How do I refresh my Sirius app?
To refresh your Sirius app, you have to send a message with the text "Refresh" to the number 77917 from your registered mobile number. After that, you will get a special link to start the refresh radio process.
Why does the SXM app keep stopping?
The app keeps stopping sometimes due to a server issue or a cache problem.
How long does it take for SiriusXM to refresh?
It usually takes 3 to 4 minutes.
Related Searches
SiriusXM app not working on Android
SiriusXM app not working on Samsung TV
SiriusXM app not working 2022
SiriusXM app no internet connection
SiriusXM app not working on iPhone
SiriusXM app not working on iPad
SiriusXM app not logging in